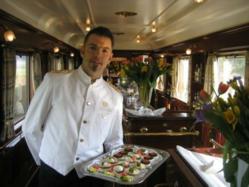 Mothers may not always make a fuss about it, but they do love being pampered occasionally! Luxury train travel is just the ticket.
Chippenham, Wiltshire, UK (PRWEB) February 20, 2013
Mothers are special, but they are not generally shown sufficient appreciation or pampered enough. Mother's Day is any day in 2013 here at the Luxury Train Club. The calendar of luxury train journeys is a unique resource, showing up to 10 train departures per day, worldwide.
A trip to a flower show for the day with Pullman dining, a luxury holiday in a suite with private bathroom, travel between world-class cities, to Royal Ascot for Ladies' Day by Orient Express; a selection of journeys that show the range of what the Club offers anyone wanting to say 'thank you'.
There are rail experiences available on every day in 2013, around the world. Membership is simple and free, requiring just a subscription to the Club newsletter and a like at Facebook/LuxuryTrainClub.
Luxury train journeys are about relaxed and gentle rail cruises along some of the world's most celebrated railways.
The trains frequently travel through scenic countryside or along coasts and riverbanks invisible from a road. Most train fares include visits to cities and sights along the route.
There is always an high standard of cuisine which is complemented by an extensive wine list, served by uniformed stewards, expert at being attentive without over-familiarity.
Cabins on the trains that offer overnight accommodation are of high quality, carefully designed to make the most of the space, almost always with attached private bathrooms. There are dedicated staff, fresh linen, toiletries and a turndown service.
All the trains make a lot of lounges and bar cars as convivial, sociable venues – but also frequently provide dedicated carriages for a little peace and quiet.
The Club presents rail journeys by over 30 luxury trains in 39 countries worldwide. The Calendar of Luxury Train Journeys makes it easy to find the train for your mother's special day.
It is easy to book. The Club accepts credit cards as well as bank transfers and UK cheques. Ticket To Ride pre-paid vouchers are available as are original gifts for someone special on any day of the year.
Simon Pielow, a concierge at the Luxury Train Club, says, "Mothers may not always make a fuss about it, but they do love being pampered occasionally! Luxury train travel is just the ticket, and there's no excuse of being too busy with so many departures to choose from; we even have 'Ticket To Ride' vouchers so they can select their own favourite journey at leisure."
About the Luxury Train Club
The Luxury Train Club is the personal booking service for the world's greatest train journeys, offering a concierge approach to booking train holidays, vacations and day trips.
For more information, please visit http://www.luxurytrainclub.com
The Luxury Train Club is part of a group of rail booking sites which includes Train Hire, Private Rail Cars, Train Chartering and soon-launching World Train Travel.
For press enquiries, please contact Simon Pielow on +44 (0)1249 890205 or email infoA(at)luxurytrainclub(dot)com
About Tickets to Ride
Tickets To Ride are available for purchase by Club members throughout the year, and make a very special gift for an important person or couple. A Ticket To Ride can be worth any amount from USD $750 or GBP £500 or EUR €600, in any one of those currencies.
Each Ticket To Ride is valid for one year from date of issue and can be redeemed towards the partial or complete payment for any journey featured on the Luxury Train Club website, as long as there is availability on that particular trip, even if the chosen journey takes place later than one year after issue.
Vouchers from the Luxury Train Club are an ideal way to show you care while giving choice to the lucky recipient.
About Mother's Day
The date of Mother's Day varies around the world. Wikipedia provides a useful guide to many such dates around the world,