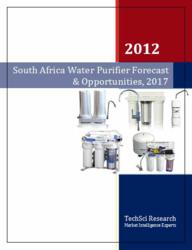 (PRWEB) February 19, 2013
The land that has plenty of gold, platinum and diamonds is facing serious crisis of water. In the past five years, outbreaks of water borne diseases have become very frequent in South Africa. Thousands of lives are lost and Millions of dollars are spent on health due to the rapidly worsening quality of drinking water. The condition is more severe in the rural villages, where around 5 Million people lack access to clean drinking water. In addition to rapid industrialisation and urbanisation, the growing population is putting an extensive pressure on water resources.
According to a recently published report by TechSci Research "South Africa Water Purifier Market Forecast and Opportunities, 2017", South Africa's residential water purifier market is currently in the nascent stage and is expected to grow tremendously. The market value of residential water purifiers in South Africa is expected to grow beyond USD 200 Million by 2016. Major revenue contributions arise from sales of under counter models. The market is strongly driven by increasing per capita income of the average South African consumer and increasing health consciousness amongst the population. But, the lack of competition from global players and dominance of domestic players in the industry is restraining the growth of the segment.
TechSci Research's analysis of the residential water purifier market suggests that the prices of water purifier are decreasing each year due to technological advancements. Also, increasing imports from Asian countries will have a considerable impact on the prices of water purifiers in South Africa.
In many provinces of South Africa, water demand exceeds local water supply and quantity is the not the lone cause of concern. Quality of drinking water supplied to majority of households in South Africa is below the WHO recommended standards for safe drinking water. The situation of the rural population is graver than that of the urban population, with more than 5 million people lacking access to safe drinking water in rural South Africa.
"South Africa Water Purifier Market Forecast and Opportunities, 2017" has evaluated the future growth potential of South Africa's water purifiers market and provides statistics and information on market structure, production and sales trends. The report will suffice in providing the intending clients with cutting-edge market intelligence and help them take sound investment decisions. Besides, the report also identifies and analyzes the emerging trends along with essential drivers and key challenges faced by the industry.