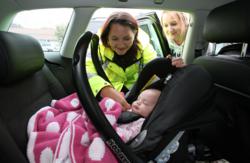 An unrestrained child can be killed in an impact with speeds as low as 5mph.
Cambridgeshire, United Kingdom (PRWEB UK) 19 February 2013
In tackling this vital road safety issue, the Council adopted the award-winning 'Good Egg In-Car Child Safety Campaign' to benefit from its proven record of success in significantly reducing casualty rates among child passengers in Scotland.
Cambridgeshire County Council has hosted six in-car clinics since November 2012, and found that only 47% of the seats checked were correctly fitted. Of the remainder, 34% had minor faults, 12% had major faults and 7% were incompatible to the child or car.
Looking at the picture across the UK, the Cambridgeshire County Council area is performing better than the average. This is based on the UK figure from 2012, which found that out of 2,631 car seats checked, 45% were correctly fitted. Out of those that were incorrect, 31% had minor faults, 18% had major faults and 6% were incompatible.
Matt Staton, Road Safety Officer for Cambridgeshire County Council, said: "In speaking to parents at these events it is evident that a lack of awareness is a big problem, with many not realising that car seats do not necessarily fit all cars, or not understanding how tightly the seat or harness should be fitted.
"The aim of this campaign in Cambridgeshire is two-fold: to correct any fitting errors and ensure parents leave the events able to check and re-fit the seat themselves, and; to arm parents with information about child car seats which they can use in purchasing new seats and pass on to friends and family."
More free car seat checks are being held at the following venues: Tesco - Bar Hill, Tesco – Huntingdon, Tesco – Milton, Morrisons – Cambourne, Tesco – March, Asda – Wisbech, Tesco – St Neots, Asda – Beehive Centre, and Waitrose – Ely. Dates for these events, and others nationally, can be found on the Good Egg Safety website or smart phone app, available at http://www.goodeggcarsafety.com
Key facts

An unrestrained child can be killed in an impact with speeds as low as 5mph. Source: RAC Foundation, 2005
If properly restrained a child is three times less likely to sustain a head injury in a collision than an unrestrained child. Source: Transport Research Laboratory April, 1996
For more information contact: peta (at) dynamicadgroup (dot) com
NOTES TO EDITORS
The Good Egg Car Safety Initiative is designed to ensure that babies and children are properly restrained whilst travelling in the car, by showing parents and carers the correct way to fit in-car child safety seats.