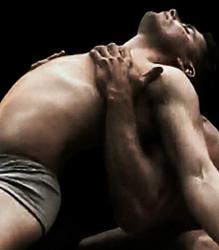 Through movement and massage components, the goal in Tantric Yogassage is to ensure energy is flowing freely as a means for wellness.
New York City, NY (PRWEB) February 20, 2013
Joschi Schwarz, Anatomy Expert, Master Teacher and Founder of Le Male Yoga in New York City, is excited to announce that he will now be offering his highly sought after Tantric Yogassage as a Certification Program.
In a safe, facilitated and playful space, Tantric Yogassage discovers principles and tools how to access and use untapped subtle energies to open the heart, mind and body, live with greater awareness and bring better balance to everyday life. Tantric Yogassage explores the practice of touch, conscious breath, movement and meditation, supplemented with lectures and discussions.
Certified Tantric Yogassage practitioners are qualified to offer individualized sessions upon completion and will be able to perform an effective 75-minute Tantric Yogassage Session.
Combining Tantra, Yoga and Massage, Tantric Yogassage opens up and aligns the chakras (energy centers) and untangles the nadis (energy channels) to unblock emotional and habitual ways to react to the world and experience the body as powerful and expressive. The result of Tantric Yogassage is deeper self-awareness and greater emotional clarity. It helps the receivers to feel deep relaxation, detoxify mental constructs, nurture the ability to concentrate, and harness our energy to live honestly and with more passion.
A Tantric Yogassage session helps to strengthen, widen, clear and feel the central channel of energy running through the body. Tantric Yogassage moves energy from the groin to the heart, connecting the two and then up to the crown of the head into the crown chakra, connecting more deeply with yourself, your higher level of being, with others and the world around you.
Tantra embraces the whole human being and includes all facets of life. Tantric practices provide powerful tools to unfold your full potential whether it is sexuality, love, relationships, opening energy or accessing blissful states of higher levels of self-realization.
About Joschi Le Male Yoga:
Le Male Yoga is for fit men who aim to initiate a lifestyle that liberates, expands and energizes.
Le Male Yoga has personality. LMY is one place and is singularly focused on creating a new and different experience for fit, in-shape and athletic men to practice Tantra and Vinyasa Yoga in an accessible way.
Le Male Yoga provides a friendly, spirited, vibrant and real community for all men - gay, straight or bisexual, who enjoy fitness, communal bonding, socializing & having fun in a safe and pretense-free atmosphere.
Students explore Power Flow Yoga for a high-heat, high-energy workout, Tantric Yoga to tap into their sexual core energy and Yogassage to enhance their body's erotic potential.
Whether students are a beginner, advanced practitioner or somewhere in between... LMY offers a unique opportunity for every man to recharge his body, update his mindset and celebrate life.
Le Male Yoga offers one-of-a kind classes, workshops, teacher trainings and retreats in New York City and around the world.