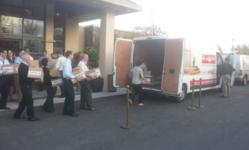 It was challenging but exciting too. Our best events ideas have been inspired by clients and this was another opportunity to create something different that would be so much more than an ordinary event. Something we always strive for
Dublin (PRWEB) February 20, 2013
Constantly looking to expand its events range, EventWorks introduced a new team building format with Corporate Responsibility in mind last year.
The team at EventWorks that looks after various events from conferences to entertainment, themes and company days, has been specialising in team building for over 15 years now.
There is a number of events that the company has designed and introduced over the years which nobody else does.
Last year a HR team member of a large international food company approached the team with an unusual request.
As the company had their upcoming conference on the International Food Day, they were looking for an activity that would engage everybody but also give them the chance to give back to the community and raise awareness of the worldwide sustainability issues.
Ronan McCabe, Executive Director of EventWorks, says: "It was challenging but exciting too. Our best event ideas have been inspired by clients, and this was another opportunity to create something different that would be so much more than an ordinary event. Something we always strive for."
The team sat down and came up with several ideas on team building activities that all incorporated CSR elements.
These were all presented to the client at the next meeting and what the client chose was in fact the EventWorks team's favourite event too.
There were approximately 200 people at the event, which took place in a venue an hour away from Dublin.
At the end of the serious conference part of the day, the group was split into teams. EventWorks had set up zones all around the venue with different activities in each zone.
Teams were then sent over to different zones where they had to complete against each other to win points. Nothing unusual in this of course, but the difference was that as they rotated though the zones, teams won food vouchers. Then they headed to the food bank to exchange them for actual food items, which they used to fill up their food parcels.
At the end of the day the team that had the fullest food parcel was announced as the winner, but all teams got to load their food parcels into a large charity truck which made for a great finale. The client also donated over 500 three course meals to the charity as part of the event
CSR is a relatively broad term, and the company has designed several other CSR events to involve different activities and challenges. The bottom line is the same: to contribute to communities and make a difference while at the same time taking part in their team event.
Among the most popular are:

Tools For Schools – A challenge that incorporates hands on and on screen challenges that teams go through to win different school materials for children in need.
Toy Factory – A far more creative challenge where participants are designing, creating and decorating toys which are then donated.
Food Parcel Challenge – A selection of mental and physical activities which could take place indoors or outdoors depending on your preferences.
Sorcha Brady, one of the Event Managers at EventWorks who was managing the first CSR event says: "The event went down so well not only because the activities were fun, but also because it left everybody with a good feeling about themselves. We knew that other companies would be able to benefit from an event of this type."
Before the first CSR event, EventWorks had only worked with one charity organisation, but now the company works with three more and there are numerous additional options.
Since the beginning of the year EventWorks has run six different Corporate Social Responsibility events for different companies.
The concept has worked so well that the team is working on expanding the activities that would tie in well with a CSR theme.
Depending on the client's needs and requirements events are adapted, and at the moment more than 80% of the activities and events that EventWorks runs can be adapted to include a CSR element or one of the dedicated CSR events can be chosen
Ronan McCabe said: 'From groups as small as 20 people right up to 800 people or so, a CSR event always works great. The client ends up giving back to the community and there's an extra feel-good factor all round. When designing and managing CSR events we have to be mindful of the end charity and their own needs but these dedicated CSR events have been designed with them in mind. It's a real win-win outcome"
The company works with companies in various industries from IT to pharmaceutical, financial services , healthcare and many more.
By the end of the year EventWorks plans to have added five completely different CSR events within different price range so that these are accessible to smaller companies which would also like to contribute but have smaller budgets.
For more information on the company's CSR events or on their full events range contact the team on +353 (0) 1 296 5992