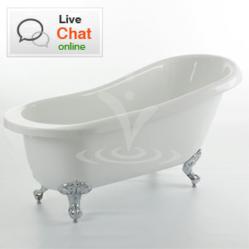 Overall, confidence in Victorian Plumbing has gone from good to great.
(PRWEB UK) 20 February 2013
For a while now, Victorian Plumbing, online bathroom and bathroom furniture retailer, have been thinking about how they can connect with their customers more. Because buying a new bathroom is a large purchase for any homeowner or tradesperson, they understand that customers may need to have some questions answered before choosing or might possibly need some advice.
Rather than leaving the computer and making a phone call, they've introduced a system from which the customer can be instantly connected to a helpful advisor within seconds. Victorian Plumbing's new Live Chat facility means that no matter what question or query the customer has, they will be able to have it resolved quickly and efficiently without having to leave the website they are browsing. No question will go unanswered, as outside of office hours customers can leave a message which will normally be answered the next morning.
So, if customers are browsing the site and are wondering if the new shower head they're looking at will fit the Thermostatic Shower Valve they've already bought, click on the Live Chat button near the top of the screen to find out. Even if they're wondering where your delivery is, they will be able to get help.
The facility is already paying off, too. Customers seem to be really happy with having the Live Chat option available and some of the feedback left has been making the customer service team really happy.
"When we introduce a new customer service facility such as this, it's quite exciting for us. We've been keeping an eye on the customer feedback and making tweaks to the system where needed" says Customer Experience Manager, Lynnette.
Comments so far have included, 'Very good service and very efficient' and 'Very helpful, polite and quick'.
Joe from the Marketing Department spoke of the effect it was having on consumer confidence, "Buying a new bathroom online can be both exciting and scary. Customers are used to seeing products in a showroom first, so it's completely normal for them to have questions about products. What this service does is connects the customer to somebody who can guide and advise them through the purchase. We're lucky that our products are stored in our warehouse next door. For example, if a customer has a question regarding a Bathroom Furniture, we can quickly go and see the product and hopefully answer the question there and then. Overall, confidence in Victorian Plumbing has gone from good to great."
For further information or bathroom advice head over to the Victorian Plumbing and click Live Chat to ask a question.
Victorian Plumbing is a leading retailer of quality bathrooms with great prices & great customer service. Visit http://www.victorianplumbing.co.uk. You can also order by telephone on 0845 5577915