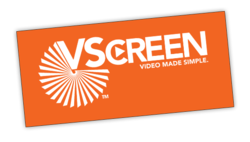 Orlando, FL (PRWEB) February 18, 2013
Amie Jonsson has been named President of VScreen, according to Stephen Schweickart, Founder and CEO of the Orlando-based video marketing agency. In addition, Jared Burnett has been named Production Director, while Shawn Vela has been appointed to the newly created position of Director of Video Engagement.
Jonsson, who formerly served as VScreen's Vice President of Operations, has been with the company since May of 2008, and is a graduate of Lake Superior State University. Her new responsibilities will include oversight of all major client and partner relations, as well as administrative and strategic development for company operations, which focuses primarily on video marketing strategies, production, and automated video technologies.
Burnett, who joined VScreen in January of 2013, brings with him over a decade of experience in commercial and TV production, as well as in the music and entertainment industry, most recently with internationally-renowned Cirque Productions. Barnett, who attended the University of North Florida, will oversee all video production, creative, and editing operations.
Vela, a graduate of Drexel University and an experienced video marketer, will focus on teaching others about the power of video through education marketing and community engagement via social media, webinars, training seminars, tutorial videos, public speaking engagements, and more.
Stephen Schweickart will continue to facilitate corporate and public relations, as well as new product development and strategic growth. Schweickart said the latest restructuring will allow him to spend more time in the field, and keep up to date on the ever changing technologies and strategies in Internet video production and deployment.
For more information contact Amie Jonsson at Amie.Jonsson (at) VScreen (dot) com, or at 866.720.0204.
-------------------------------------------------------------------------
About VScreen: VScreen is a leading Internet video marketing agency and production studio, offering turnkey video solutions for companies looking for the latest in syndicated consumer video content, custom video production and automated video technology. Specializing in vertical markets such as real estate…VScreen is the trusted video source for the most reputable national brands and dot coms within their respective industry.