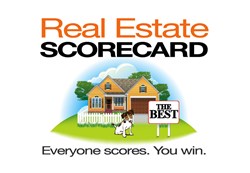 Fort Lauderdale, Florida (PRWEB) February 20, 2013
With spring rapidly approaching and real estate market conditions improving, many folks are hoping for a quick home sale to escape the harsh winters and high cost of living states, moving to the best master planned communities in the Southeast. Good news for sellers, some say the market today is becoming a seller's market.
Here are proven tips from Real Estate Scorecard, to help you sell your home:
Prepare Your Home Properly for the Sale
If you have not looked to buy or sell a home recently, you might be surprised to see the condition of homes on the market today. Homes left abandoned, smelly and needing repairs. Homes cluttered with junk, painted funkadelic colors from the 60's or homes which seem like indoor animal shelters. It's crazy how people live. Sellers don't always 'clean up' the house for buyers to see, because they don't think their taste is abnormal.
Consider staging your home. You will have a distinct advantage if you include a professional stager on your sales team, to help with staging your home. A professional stager's role is to bring your home back to 'model-like' condition, as if your home was brand new and never occupied. Keep in mind, buyers like to buy new things. With a coat of neutral paint, a splash of curb appeal, the lack of needed repairs and all your personal effects removed, your home will appear newer and sell quicker if it has been staged properly. It may cost you a thousand dollars or so up front yet staging can save you money in the long run.
Find an Expert Who Knows How to Sell Homes
When you decide to sell your home, Real Estate Scorecard suggests you find the most visible real estate brokers in your neighborhood. Look for Home for Sale and Open House signs. These real estate brokers know your neighborhood best. They're in your neighborhood showing homes all the time. Choose 3 to 5 of these real estate brokers to interview. During the interview, it is customary for them to provide you sales figures for the last six months and what homes are currently for sale. If they don't, be sure to ask.
Many buyers complain once a real estate broker has their listing, the broker disappears into never never land. Get a written commitment from your broker upfront: when open houses will take place for the duration of the listing, what day you will hear from them each week, what marketing efforts will be made to promote your home to other real estate brokers, how your home will be exposed on the internet and in print materials. Don't leave these services open ended.
Price Your Home Right
Pricing your home will be the toughest part. Get it right the first time. Real Estate Scorecard suggests two ways to calculate the listing price of your home:
1) Price Your Home Correctly. Take a look at the MLS print out your real estate broker provided you, of all the homes for sale in your neighborhood. Notice the lowest price. Removing the lower prices and higher prices, find the average of the remaining group. If you price your home on the low end of this group, more buyers will inquire to see your home, because like it or not, buyers search by price first. The more buyers who see your home, the more likely it will sell quickly with smart pricing.
2) Get An Appraisal Before You List Your Home. Let the appraiser take the guess work out of determining your home's value. Appraisals cost about $350. Ask the appraiser to provide six sold homes in the report that are similar to yours; same size, same bedroom count and features. An appraiser has access to information you don't. The appraisal will also be a helpful tool when negotiating with a buyer. A buyer's lender will still require a new appraisal when they seek financing.
About Real Estate Scorecard
Real Estate Scorecard writes real estate reviews providing in depth information about the best master planned communities in Florida, Georgia, North Carolina, South Carolina and Tennessee, all in an effort to help people discover where to retire. Website address: http://realestatescorecard.com