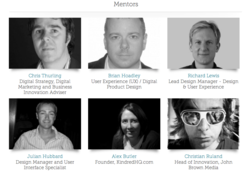 True mentoring is about an ongoing sense of learning, dialogue, and challenge.
London, UK (PRWEB UK) 19 February 2013
Anyone starting out on a journey needs a guide. When that journey is a career path a mentor can be an invaluable companion, able to impart hard-won knowledge and advice and not only act as a guide towards a goal, but also to help define what that goal should be. Superstars recognises the value of a good mentor and their new Mentors scheme is designed to help match up-and-coming Talent with some of the best in their field.
As a recent LinkedIn post by Wealthfront Inc. CEO Andy Rachleff points out, many great things can happen if you find a great mentor. A mentor can give your career an "updraft". As Rachleff puts it, "The vast majority of leaders in their fields trained under great mentors. Most every great doctor, lawyer, investor and marketer learned her craft from someone else."
Superstars believes in the value of mentorship as a relationship that can benefit both parties. This kind of mentoring goes beyond answering occasional questions, providing ad hoc help and quick fixes or even making professional introductions. True mentoring is about an ongoing sense of learning, dialogue, and challenge.
The Mentors who have offered their time to help Superstars' Talent are all professionals with a wealth of experience who are willing to share advice with people who want to work in their sectors. These talented and successful superstars have agreed to make themselves available to meet with Superstars' Talent and give them the kind of advice and support that can not be found anywhere else.
Talent can simply click on the Mentor they would like to meet and Superstars staff will make the necessary arrangements so the two can get together. Mentors who have volunteered their time so far include Richard Ogley, Head of Creative at BSkyB, and Alex Butler, Founder of KindredHQ. This high-quality advice and support provides a unique opportunity for Talent to gain a crucial advantage in the search for their ideal career.
"The exciting thing about Mentors is that we are going to have high-end people ready to talk to our community for free to get talented advice," said Superstars founder Steve Hutson. "No-one does that."
Superstars is based on a unique new staffing model that eliminates fees and margins forever. Clients work with Talent Managers to get the best staff for their needs and the Talent get amazing opportunities and the best support and mentoring in the industry.
Superstars' clients include BSkyB, Orange, Infosys and Radical Company with more being added all the time.
To find out more about Superstars' unique staffing model and how it can transform the way you hire staff, contact Steve Hutson - steve(at)homeofsuperstars(dot)com or visit http://www.homeofsuperstars.com