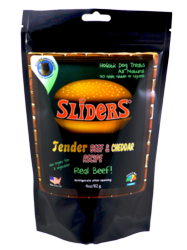 I have every right to show my own 100% confidence in the quality and wholesomeness of the finished product and I choose to do so by eating them myself.
Orlando, FL (PRWEB) February 19, 2013
Clear Conscience Pet is a young family owned company that has recently been recognized with their fifth award for excellence in pet nutrition. The company has been honored for their innovative USA made all natural treats, chews, and SuperGravy brand pet food topper. Now the company says it is breaking new ground again with the launch of their new Sliders® brand of high meat "holistic pub" treats for dogs.
The Sliders® line is being premiered at the Global Pet Expo in Orlando from Feb. 20-22. The Global Pet Expo is the premier event for the pet food and supplies industry and is presented by the American Pet Products Association (APPA).
Founder Anthony Bennie says that the Sliders® line of dog treats is completely natural, wholesome, and cleanly sourced using human grade natural ingredients sourced from American family farms. And to show his confidence in their quality and safety, he does not hesitate to eat the Tender Beef and Cheddar and Chicken and Cheddar treats himself. "I enjoy high protein low carb snacks," said Bennie. "so the Sliders® Tender are perfect. So I won't ask anyone else to try this, but as you see in this homemade video, these are delicious both to me and to our dogs!"
"I can't legally say that these treats are people food," said Bennie. "It's not our intent to confuse or sensationalize the serious issues of food safety that have plagued the pet treat industry in the past few years. But as the developer of these recipes and natural cooking method, I have every right to show my own 100% confidence in the quality and wholesomeness of the finished product and I choose to do so by eating them myself. If anyone wants to see living proof that Sliders® Tenders are unlike any moist meaty dog treat on the market, I hope seeing me eat them will be the only evidence they need. "
The company says that they have a proprietary formulation and preservation method that uses only natural ingredients and special packaging technology to keep the moist treats fresh at room temperature throughout their shelf life. This represents a major departure and breakthrough in the way moist treats for pets are made.
"We were tired of the heavy levels of chemical preservatives, the strange gummy texture, and of course we share the concerns of millions of consumers about Chinese jerky pet treats which have led to so many complaints of illness and recalls," said Bennie. "We still don't know what is behind all of these complaints, but I have grown especially wary of two things: the widespread use of various forms of glycerin, and the employment of irradiation by Asian treat manufacturers to prevent spoilage and pathogens in pet treats. Glycerins are NOT used in human food manufacturing, and their origin is as a by-product of the manufacturing of soaps; irradiation is another area that has not been sufficiently explored or researched in my opinion. It's just not something I am comfortable with personally as a holistic animal nutritionist."
The Sliders® brand is a registered trademark exclusive to Clear Conscience Pet, and the line also includes grain-free Sliders® Crunchy Chicken and Crunchy Beef snacks, which offer the highest levels of meat protein available for those dogs who love a crunchier treat. "Sliders® Crunchy recipes aren't dog cookies loaded with grains or other fillers," said Co-Founder Amanda Bennie. "They are made with lots of fresh natural beef and chicken, blended with organic flaxseed and air dried carrots, spinach, and tomatoes for a balanced low carb, high protein snack. Think of them as the well-done version of Sliders® treats and watch your dogs go crazy for them."
The treats will be available at independent pet supply outlets, online retailers, and the company's own website.
# # #
About Clear Conscience Pet®, LLC
Clear Conscience Pet® is a multiple award winning pet nutrition company founded with the mission of using ingredients from sustainable family farms to make exceptionally healthy treats, chews, and the SuperGravy line of pet food enhancing gravies. The company's current products (clearconsciencepet.com/products) include the new Sliders® line as well as the patent pending OSV™ treat and chew line, SuperGravy®, the first Holistic Instant Dry Gravy Mix and Nutrient Enhancer for pets, and Cruncherz™ Gluten & Grain-Free Bakery Treats. The company is based in Wilton, Connecticut and is family-owned by Founders Anthony Bennie and Amanda Malone Bennie. They currently market their pet food products to pet supply retailers, veterinarians, health food stores, and other pet specialty outlets.
Web address: http://www.clearconsciencepet.com
Facebook page: http://www.facebook.com/Clear.Conscience.Pet.LLC
Video interviews with Founder, Anthony Bennie: visit:
http://www.clearconsciencepet.com/ccp-tv