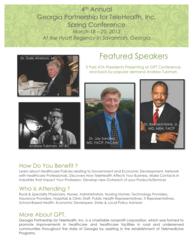 Historically GPT conferences have been one of the most informative events in the nation. This years agenda and speakers are anticipated to exceed previous conferences.
Waycross, Georgia (PRWEB) February 20, 2013
The Fourth Annual Georgia Partnership for Telehealth, Inc. Conference, Impacting Lives Through Applied Technology, will bring together leaders in the field of telehealth. Keynote speakers include three past American Telemedicine Association (ATA) Presidents including Dr. Bernard A. Harris Jr. MD, MBA, FACP, Dr. Jay H. Sanders MD, FACP, FACCAAI, and Dr. Dale Alverson, MD also back by popular demand Andrew Tubman MT-BC. The Conference will be held in Savannah, Georgia March 18 - 20, 2013 at the Hyatt Regency. Registration is currently open.
More about the keynote speaker:
Dr. Bernard Harris is currently Chief Executive Officer and Managing Partner of Vesalius Ventures, Inc., a venture capital firm, that invest in early to mid stage Healthcare technologies and companies.
Prior to Vesalius Ventures, Dr. Harris was at NASA for ten years, where he conducted research in musculoskeletal physiology and disuse osteoporosis. Later, as Head of the Exercise Countermeasure Project, he conducted clinical investigations of space adaptation and developed in-flight medical devices to extend Astronaut stays in space, which involved the use of telemetry. A veteran astronaut for over eighteen years, he has logged more than 438 hours and traveled over 7.2 million miles in space. On his second flight, Dr. Harris conducted the first telemedicine conference from space with the Mayo Clinic and became the "First African American to walk in Space". In 2009, he was elected Vice President of the American Telemedicine Association. He was elected President of the American Telemedicine Association in 2011, serving for a one- year term that ended in 2012.
Jay H. Sanders, M.D., is the CEO of The Global Telemedicine Group, Professor of Medicine (Adjunct) at Johns Hopkins School of Medicine and a Founding Board Member and President Emeritus of the American Telemedicine Association. Known to many as the "Father of Telemedicine", he developed the first Statewide telemedicine system, the first Correctional telemedicine program, the first tele-homecare technology, called "The Electronic House Call", and the first telemedicine kiosk. His consulting activities have included NASA, DOD, HHS, the FCC, State Governments, WHO, and multiple academic institutions and Fortune 500 companies. During the Clinton Administration he represented the USA to the G8 nations for telemedicine, and was appointed by former HHS Secretary Leavitt, to the Chronic Care Workgroup Committee.
Dale Alverson, MD is a Professor of Pediatrics and UNM Regents' Professor on faculty at the University of New Mexico, School of Medicine. Since 1995, he has been the Medical Director of the Center for Telehealth and Cybermedicine Research at the University of New Mexico, Health Sciences Center. In that role, he has been involved in the planning, implementation, research and evaluation of Telemedicine systems for New Mexico, primarily serving its rural communities using information technologies, videoconferencing and the internet to provide access to clinical services and health educationOn a national level, Dr. Alverson is on Boards of ATA and the Center for Telehealth and e-Health Law (CTeL) based in Washington DC that are involved in policies, regulations and legislation that affect Telehealth on a broad level. He was elected Vice President of ATA in 2008 and become President in 2010. He was also the ATA representative on the Joint Commission Ambulatory Health Care Professional and Technology Advisory Committee. He is a founder and prior chairman of the Four Corners Telehealth Consortium addressing regional interstate coordination between Arizona, Colorado, Utah and New Mexico.
Andrew Tubman, MT-BC founded Integrative Music Therapy Services after developing a "client motivated" approach to therapy that utilizes multiple creative mediums structured within a musical context, deeply engaging the client and allowing clinical goals to be effectively addressed.
Andy received his training in Music Therapy at Temple University in Philadelphia. He is a Board Certified Music Therapist with more than fourteen years experience working with in-patient Geriatric, Adult and Children's psych, Teen and Adult recovery as well as with Brain trauma rehabilitation. Andy now frequently speaks on the subject of music and the brain, the creative process in therapy and Autism to professional and lay audiences in the U.S. and abroad. Andy's focus at Integrative Music Therapy Services has, since 2005, centered on Autism and other developmental delays.
This conference is a meeting of professionals from all realms of telehealth including healthcare providers, information technology and equipment experts, as well as health information exchange and state and federal initiative representatives.
"Historically GPT conferences have been one of the most informative events in the nation. This years agenda and speakers are anticipated to exceed previous conferences. Attendees will find the conference informative, inspiring and will have an enjoyable time in Savannah," states Dr. Jeffrey Kesler COO.
Various sponsors and exhibitors will be in attendance to present the most up-to-date technology, news, and industry updates. Special hotel room rates will end February 25, 2013 and conference registration information can be found online at http://www.gatelehealth.org.
About GPT:
Georgia Partnership for Telehealth, Inc. is a charitable nonprofit corporation which was formed to promote improvements in healthcare and healthcare facilities in rural and underserved communities throughout the state of Georgia by assisting in the establishment of Telemedicine Programs. GPT is known as the leading agency in Georgia focusing on increasing access to healthcare through innovative use of technology including telemedicine, health information exchange and telehealth.
Global Partnership for Telehealth's mission is to deliver worldwide access to healthcare. Our unparalleled success in the United States in applies telehealth programs and services has assisted agencies in providing cost effective, efficient, and high quality healthcare to hundreds of thousands. GPT is reaching beyond our borders to bring healthcare to the world.