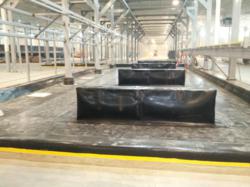 There is no comparison of this flexible liner system to any other coating alternative in terms of costs, speed of installation, and ease of maintenance once in use
Claremore, OK (PRWEB) February 21, 2013
Andrew Hotchkies, President of Witt Lining Systems - the nation's leader in flexible PVC corrosion resistant liners - announced that it has just completed the final phase of a major containment lining project.
Witt Lining Systems was chosen as the flexible PVC lining supplier for the containment lining project of a new metal finishing facility being constructed in Michigan. The project involved a Spectra Blue PVC flexible liner underneath the foundation along with a containment liner underneath the new process line and several chemical storage areas.
Other metal finishing companies in the state have recently came under EPA fines for contamination of nearby ground water because of inadequate secondary containment areas. The firm chose a flexible PVC liner due to the long service life and low maintenance offered by such liners.
The first phase of the project involved a 60 mil PVC liner that was deployed and then the foundation was poured over top. The purpose of this liner is to act as a final barrier to prevent any contamination of the soil beneath the facility.
Once the foundation was poured work began on containment liners for the main production line and chemical storage areas. One of the key components was the use of a PVC embed strip developed by Stein Industries. Instead of typical compression strips and mechanical fasteners to hold the liner in place, this PVC embed strip was placed into the concrete as it was curing. The design allowed for the Koroseal PVC to be welded directly to the embed strip. Not only does this create a liquid seal but the yellow color of the embed strip also acts as a warning signal identifying the different chemical areas.
Besides the embed strips, the installation of the liners themselves was performed by Stein Industries. "There is no comparison of this flexible liner containment system to any other coating alternative in terms of costs, speed of installation, and ease of maintenance once in use" said Melvin Stein.
Besides the containment area itself, the liner also covers the piers and foundations that the process tanks will sit on. "The second I am finished, the tanks and other equipment can be put into place" commented Stein when asked about the benefits of a flexible PVC liner.
Witt Lining Systems is located in Claremore, OK. The company manufactures flexible PVC liners used for corrosion resistance in process tanks, storage tanks, vats, sumps, pits, and containment areas. PVC brands include Spectra Blue, Exceline and Koroseal PVC along with NSF-61 PVC and Teflon liners. For more information contact 1-800-323-3335 or visit http://www.wittliners.com
Stein Industries is a custom designer, fabricator, and installer of plastic tanks, custom equipment, and Witt Linings' factory installer in industrial and commercial applications. The company is located in Bryant, IN. For more information contact 1-260-997-6700 or visit http://www.steinindustries.com.