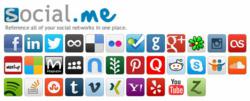 ...use the data to turn more casual browsers into followers.
Tampa, FL (PRWEB) February 18, 2013
Social.me today announced the launch of the first phase of its social media click tracking rollout, and the addition of new features. The personal branding startup, which reached a 1,000 user milestone just 3 days into its public launch, hopes to further expand their base with the change.
Social.me's primary function allows users to unify up to 36 different social networks from a single profile for free, and has already received favorable reviews from the tech sector and startup-specific publications like KillerStartups.com. Aiming to be the "home" for the social media presence of users and brands active on multiple social networks, the addition of social analytics could prove to be useful in expanding the service's reach.
"Most individuals and brands are using a standard 'social icon strip' to link their blogs or websites to their social media pages, but they have no idea who's clicking through," said Ron Rule, Social.me's founder. "Our users will be able to see how many visitors are finding their way to their social sites and generate rich analytics showing which networks are getting the most visibility, and where those visitors are coming from, even if they never view their Social.me profile."
Outbound click tracking is nothing new and is offered by a handful of web analytics platforms, but according to Rule most sites aren't implementing it. Rule, an eCommerce expert known for publishing conversion optimization strategies, has applied a similar methodology to Social.me's analytics and claims that follower counts aren't an accurate representation of how many people are viewing your social profiles. "There are plenty of times we click through to an individual or brand's social pages, but don't subscribe to receive their updates. Using Social.me you'll be able to compare the clicks to increases in your following and use that data to improve your social communication to turn more of those casual browsers into followers."
The data is currently being collected and views are being displayed in phase one, with the full social analytics rollout to be completed within the next 30 days.