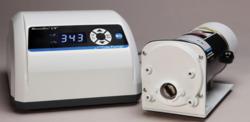 Vernon Hills, IL (PRWEB) February 18, 2013
Cole-Parmer will showcase a selection of new and enhanced Masterflex® tubing pumps and tubing formulations at Pittcon® 2013 in Philadelphia March 18-21. Attendees stopping by Booth #2225 can view the new Masterflex® L/S® Precision Modular Drives. These peristaltic pump drives allow users to position the motor and controller separately—ideal for limited spaces, hoods, or isolation chambers. The new non-DEHP formulation of Masterflex® Tygon® E-Lab Pump Tubing, containing no BPA or phthalates, will also be on display. This versatile tubing handles virtually all inorganic chemicals and viscous fluids and offers near-global compliance.
Along with fluid handling products, Cole-Parmer will feature key items that boost productivity in the laboratory. The new Cole-Parmer® Variable-Speed Clinical Centrifuge ensures powerful and complete separation of serum and plasma specimens in samples. The new LabTouch Water Activity Meter uses the latest noncontact infrared sampling technology and a maintenance-free Aw sensor designed to measure almost any kind of sample. The new PBI Shredder SG3 System from Cole-Parmer enables users to achieve better sample integrity and longer DNA. The device creates a closed system in which to safely prepare samples. The Cole-Parmer® Rotational Viscometer determines the dynamic viscosity of samples in pharmaceuticals, chemicals, biofuels, adhesives, and more. It is available in basic, intermediate, and advanced models.
Booth visitors can also register to win a Nintendo® Wii U Basic Set and request the new 2013/14 Cole-Parmer® Sourcebook. For more information, call 800-323-4340 or go to ColeParmer.com/19788.
Cole-Parmer has been a leading global source of laboratory and industrial fluid handling products, instrumentation, equipment, and supplies since 1955. Our product lines, including popular brand names such as Masterflex®, Oakton®, and more, are sold through company-owned customer channel outlets and a strong network of international dealers. We also feature an ISO-17025-accredited metrology lab for instrument calibration and repair. Cole-Parmer responds with excellence to customer needs, and offers application expertise and technical support. For more information, contact Cole-Parmer, 625 East Bunker Court, Vernon Hills, IL 60061. In the US, call 800-323-4340. International customers, call 847-549-7600. Visit us at http://www.coleparmer.com.