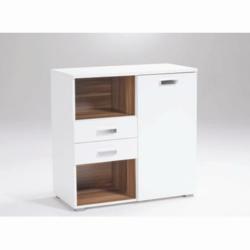 FurnitureInFashion announced the launch of exquisite Bilbao-II white and walnut sideboard
(PRWEB UK) 21 February 2013
FurnitureInFashion, the leading online furniture retailer in UK, presents exquisite Bilbao-II white and walnut sideboard. It is another addition to existing beautiful dining room furniture range at FurnitureInFashion. Bilbao II white and walnut sideboard is proof that craftsmen at FurnitureInFashiona are not only experienced but are innovative too.
It is a contemporary sideboard with a fresh new design and is suitable for modern dining room. The new Bilbao-II white and walnut sideboard is crafted from beautiful walnut wood and finely finished with a contrast of white to bring forth both the traditional and modern look. Managing Director and CEO of FurntiureInFashion Asad Shamim commented on the launch of Bilbao sideboard. "We are very excited about the launch of this new modern sideboard for dining room. This beautifully designed sideboard with a matchless walnut wooden and white finish will give your dining room a wonderful gaze."
The newly available Bilbao sideboard is a beautiful contemporary furniture piece for dining room. It offers an outstanding combination of walnut wooden and white finish. This beautiful blend of walnut and white is further enhanced by strongly angled design in a rectangular shape. It has a thick rectangular top that can be used for displaying ornaments in a dining room.
Bilbao II sideboard is definitely ideal for the customers who are looking for storage space. This beautiful sideboard has 2 open compartments in beautiful walnut finish with enormous storage space. These compartments are ideal for storing magazines, books, files and other belongings.
Homeowners can also display their favourite crockery in these open compartments. Bilbao sideboard also consists of 2 small and 1 extensively large drawers in white finish with stylish sleek pull handles. These drawers have enormous storage space and can be used for storing extra cutlery. With 2 small drawers, one extensively large drawer and 2 open compartments make this sideboard a practical furnishing for the dining room.
A sale representative of FurntiureInFashion states, "This sideboard is not only beautiful but is incredibly practical as well." The MD of FurnitureInFashion commented, "The Bilbao sideboard in walnut and white finish exemplifies how we build with style in one hand and innovation in the other."
Bilbao sideboard will take less floor space due to its compact and sleek construction. Even with its compact structure, it offers great storage space for any dining room with any amount of storage requirement. It will surely add charm and distinctiveness to dining area. Bilbao sideboard has been constructed with quality material and authentic methods for lasting durability.
Bilbao sideboard with the dimensions of 80m length and height of 92 is available at affordable price and can be ordered from the online catalogue of FurntiureInFashion. The MD of FurnitureInFashion commented, "FurnitureInFashion has one simple aim, to provide consumers with quality furniture in fantastic material. We use authentic German manufacturing processes at our Germany based warehouse. We aim to become UK's leading furniture retailer by offering quality products at reasonable prices."
FurnitureInFashion is known for its practical and functional home furniture. The company covers the whole spectrum of contemporary and stylish designs in bedroom, living room, dining room and hallway furniture. Customers can browse through extensive catalogue of dining room furniture that offers 4, 6 and 8 seater wooden and glass dining tables with fantastic chairs collection.
About FurnitureInFashion
FurnitureInFashion is a UK based online retail business. It supplies furniture items from its German based warehouse and has a showroom in Bolton, UK. The company provides everything from umbrella stand, wall art and room dividers to bedroom, bar stools and computer tables. FurnitureInFashion offers excellent free delivery within UK and has a fantastic customer service as well. For further information and details about the sale, please visit http://www.furnitureinfashion.net