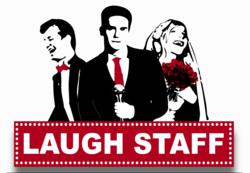 Bohemia, N.Y. (PRWEB) February 22, 2013
On February 22, Laugh Staff – a company made up of writers dedicated to helping people create meaningful and funny speeches – responded to a recent article from Glamour Magazine that provides seven tips for giving the best maid of honor speech ever.
According to Glamour Magazine, maids of honor should be ready to introduce themselves to their audience, talk about the couple and speak about something personal "but not too personal."
While you obviously want to make the speech about personal experiences and funny stories, definitely avoid sexual exploits and exes reports Glamour. Glamour adds that by including the couple, and not singling out the bride or groom, into your speech keeps focus on the couple and avoids embarrassment.
According to Glamour Magazine, while [your speech] doesn't have to be a stand-up comedy routine, a little bit of humor always makes a speech better. A slightly embarrassing (but not too embarrassing) anecdote is a great way to do this. "Remember: You're toasting the couple, so you should say something to prompt all in attendance to lift their champagne glasses."
"Preparation is the key to success. Practicing in front of as many people as possible gives you the opportunity to get some of the nerves out of your system, "said Kali Fencl, a professional comedian and speech coach at Laugh Staff. " An emotional day mixed with public speaking can often lead to a speech that's polluted with giggling or inappropriate comments. You want everyone to remember the funny comments and touching sentiments you had—not the constant giggling, likes, or ums."
Fencl added that funny speeches can be tricky to give, but with a little help from friends and/or professionals, even an amateur public speaker can enthrall an audience.
Laugh Staff provides speech-writing services to friends and family of the bride and groom. They assist best men and maid of honors in speech editing, speech writing, and training on speech delivery. Recognizing the importance of the big day, best men and maid of honors work with comedians to ensure their speech is memorable.
###