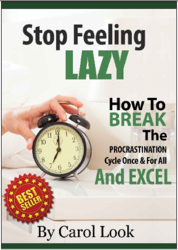 Chicago, IL (PRWEB) February 20, 2013
Just about every person at some point has wondered how to stop being lazy when it comes to day-to-day activity. Life is full of responsibilities that while necessary, are also no fun to accomplish. These responsibilities can range from anything as simple to taking out the trash to something much larger like paying a mortgage. There are always those who are able to take on these challenges with flying colors, but for a majority of people, even the smallest task can take a huge amount of motivation to accomplish. So, where does one find this motivation to stop being lazy?
Procrastination seems to be one of the largest undiagnosed disorders in the world and millions of people are affected by it every day. It does not just have to be at school studying for an exam or at the office working on a giant work assignment. A constant feeling of being lazy can easily affect any and every part of life. Procrastination is the reason why the dishes have been in the sink for days, why the car oil has not been checked, why the guitar sits dusty and un-played in the corner of the room. Most people do no notice why their lives have quietly and slowly fallen behind and much of the reasoning behind it is because they procrastinate.
In Carol Look's new book Stop Feeling So Lazy, she teaches people how to break the procrastination cycle once and for all and excel. Carol has helped thousands of people around the world fight the battle that seems to be tormenting so many. Her book touches on subjects that pinpoint to the causes of laziness like fear of failure, fear of success and rebellion and describes step-by-step how to fight back. She understands the struggles that many of people face from day to day and realizes that even the smallest task can feel like a fourteen thousand foot mountain. Through her own struggles Carol has found a way to not only tackle laziness head on, but how to improve life in every way.
Lets face it, there is not one person in this world that does not need a little help when it comes to being motivated to doing the difficult tasks in life. Unfortunately, society today moves at a vey fast pace and is anything but simple. Carol Look's new book Stop Feeling So Lazy is the perfect guide to finding out how to live a life full of productivity, happiness and most importantly it teaches the reader how to stop being lazy.
Carol Look's bestselling book Stop Being Lazy on Amazon