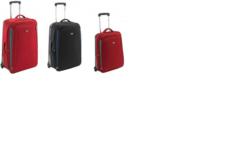 The International cabin size case only weighs in at a mere 2.2 kg
Kent (PRWEB UK) 19 February 2013
Antler's Duolite GT, as driven by Eddie Jordan! The Duolite range has been given a sporty upgrade with the name "GT" added on to the new range. The range has a combination of easy glide wheels, sporty looking colours of Red or Black and the carbon fibre prints that bring it all in line for a sporty feel and look. These lightweight cases are also expandable and so they give that little extra needed space on maybe the returning journey home with extra souvenirs have been bought. The range is designed to have the flexibility of a soft sided case with the strength of a hardsided case. The handles are soft and comfortable to use during travel. Features include front and side pockets for organisation and storage. The International cabin size case only weighs in at a mere 2.2 kg and these cases can easily be cleaned with a soft damp cloth which is such a convenience for after trips where some bags can come out looking quite soiled.
The 20% discount offered now to customers would be a great time for customers to purchase and put aside for the next holiday and the savings made on the cost of the case can go to the actual holiday.
This discount is only for a limited time, so try not to miss out on this reduction on one of the best names in the luggage industry-Antler.
Luggage Superstore's established site is in West Kingsdown, Kent. Their aim is providing competitive prices of the highest quality luggage and top calibre Customer Service for online luggage shopping. Luggage Superstore recommends Antler.
Trina Chee-a-kwai
Luggage Superstore
01474854666
Email Information