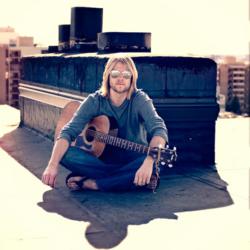 When I got the call, I was stunned silent
Denver, CO (PRWEB) February 19, 2013
Drew Schofield from Denver, CO has just received news that any would make any independent artists pinch themselves. He has been selected as a top 10 finalist in Guitar Center's national competition "Singer Songwriter 2," a search for undiscovered talent.
"When I got the call, I was stunned silent," says Drew, who got the news Tuesday but had to keep it quiet until Guitar Center made the official announcement Friday morning. "I am still in a bit of shock, but I'm stoked to get out there and make connections and do what I love for such a prestigious audience."
Drew Schofield and the other nine finalists were hand picked out of 13,000+ entrants by legendary producer John Shanks, whose accomplishments include Grammy Producer of the Year, 6 Grammy nominations, 45 number 1 singles, and a host of other honors. Guitar Center is flying the finalists to Los Angeles next week to compete on March 2nd for the Grand Prize, which includes a 4 song EP produced by John Shanks, loads of music gear, and a performance on Jimmy Kimmel Live!
The competition will be stiff. Among the competitors is Madilyn Bailey, an internet sensation who has been featured on Ryan Seacrest's blog and has millions of views on YouTube. The grand prize winner will be chosen by John Shanks and a panel of judges who will base their decision on six criteria: (i) melody, vocal ability and music; (ii) commercial viability of song and entrant; (iii) emotional and creative quality of music; (iv) song lyrics; (v) entrant entertainment value; and (vi) reaction of the crowd at the grand prize round.
Drew Schofield, a Denver-based singer/songwriter, just released his first full-length album "Away We Go" in December of 2012 and has been filling his calendar with local and regional performances. You can check out his music at drewschofieldmusic.com or purchase it from iTunes, AmazonMp3 or any other digital retailer. Drew is also giving away the entirety of his album online for a limited time through Noise Trade in exchange for signing up for his email newsletter.
Watch for news on Drew's social media accounts on March 2nd as the competition in LA heats up and the finalists take the stage. "I'm blown away by this opportunity," says Drew, "I can't wait to see what doors open for me as I move forward."