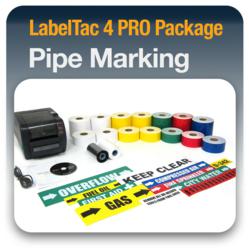 "We were very impressed with the quality of labels and the industrial printer that allowed us to mark our pipes quickly. The personal help we received from LabelTac.com was outstanding!"
Lake Oswego, OR (PRWEB) February 22, 2013
ANSI / ASME color coded pipe markers are used in offices, refineries, hospitals, power plants, hotels, factories, retail stores, schools, in the military… anywhere pipes exist. Labeltac.com is now offering a complete package containing the LabelTac 4 PRO Printer, ten colors of pipe marking tape, black and white ribbon, labeling templates, and the Bartender label creation software. The package includes everything that is needed to help any company become safer and in compliance with OSHA and ANSI pipe marking regulations.
OSHA and ANSI have industrial color codes and label standards requiring companies to correctly mark their exposed pipes for safety reasons. Companies know that safety is critical in running a successful business and one way to assure safety for workers and visitors is by properly identifying pipes and the hazardous materials they carry. The pipe marking package includes everything to make labeling pipes easy and get the job done in a snap. The LabelTac PRO printer included in the package is considered the best industrial printer and will print out of MS Word, Open Office, and other popular programs. By making labels on demand when and as needed is part of running a lean facility.
LabelTac.com also offers a free pipe marking guide that will help make the job easier and will guarantee OSHA and ANSI standards are being followed to keep any facility safer. The guide includes a color-coded chart that is easy to follow to create the proper labels for pipe marking.
A business owner commented about LabelTac.com and the pipe marking package, "We were very impressed with the quality of labels and the industrial printer that allowed us to mark our pipes quickly. The personal help we received from LabelTac.com was outstanding!"
For more information about the LabelTac 4 PRO Pipe Marking Package, please visit http://www.labeltac.com/pipe-marking/ or call toll free (866)777-1360 to speak with a professional and knowledgeable representative that are always ready to answer questions and help with technical support.