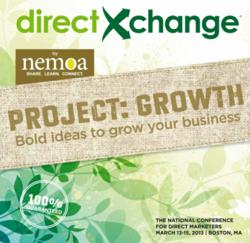 Indianapolis, IN (PRWEB) February 19, 2013
Fifth Gear, a provider of direct-to-consumer order fulfillment, contact center, retail technology, and marketing services, is pleased to announce its participation in the upcoming directXchange Conference by NEMOA, a national conference for direct marketers. Their Spring 2013 event will be held March 13-15 in Boston, Massachusetts. Fifth Gear is member of NEMOA and is returning as a Bronze-level Sponsor of the conference and facilitating a roundtable discussion.
The message for this year's spring conference is Project Growth. NEMOA wants attendees to walk away from the event inspired to grow their business by learning new marketing formulas and messages. Speakers and attendees include some of the most respected names in direct-to-consumer retail.
"As a service provider for online retailers, we are looking forward to sharing our industry know-how during the roundtable discussions," stated Carol Smith, Fifth Gear director of business development. "Fifth Gear considers NEMOA events a must-see, and we are proud to continue our sponsorship and speaking opportunities."
New this year, NEMOA will introduce a session called Xpress Talks that involve rapid fire discussions ranging from branding, promotions, and couch commerce, to mail strategies, outsourcing, and acquisition.
In NEMOA's promotional video highlighting the conference, attendees are encouraged to be bold, stand out, and make a statement. NEMOA is a great way to connect with others in the industry in a non-selling environment.
The organization's next conference is scheduled for September 18-19, 2013 in Providence, Massachusetts. To learn details of the Fall 2013 Conference, please visit the interactive brochure at http://www.nemoa.org/inter-brochure/interactive-spring2013/appli.htm
###