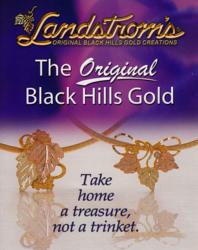 And If our customers prefer to shop on Amazon, then we will be there for them.
Boulder, Colorado (PRWEB) February 19, 2013
Since 2007 BlackHillsGoldSource has been providing quality Landstroms jewelry online at a fraction of the retail prices. During this time they've been the go-to source for people looking to save money on Landstroms quality Black Hills Gold jewelry by buying online rather than traveling all the way to South Dakota's Black Hills region where the jewelry is made. Over the years, the website has been meticulously updated and refined to provide customers with a swift and smooth interface, a complete selection of both contemporary pieces as well as classic designs and an informative and pleasurable shopping experience.
However, during this same time Amazon.com has also grown to become the largest online retailer in the world. In fact, according to a May 2011 New York Times article, by then Amazon's Kindle ebooks had already begun outselling all print books at Amazon. This amazing fact has prompted BlackHillsGoldSource to now offer their extensive line of Black Hills Gold jewelry on Amazon. According to BlackHillsGoldSource owner and founder Michael Amato, "If we truly want to serve our customers, then we need to offer them the opportunity to buy our products on their terms. And if our customers prefer to shop on Amazon, then we will be there for them."
Amato explains that with the many advantages of shopping at Amazon, like being able to set up and save multiple shipping addresses and multiple credit cards, maintaining a wish list of a wide variety of items and the ability to keep track of all one's purchases in one place, it's not a mystery why many shoppers are turning to Amazon for their jewelry and gift purchases as well, "After all, you can find just about anything on Amazon. Heck, I shop there, too!", Amato says.
Nearly every piece of Landstroms Black Hills Gold jewelry offered online at BlackHillsGoldSource.com can now be found on their Amazon Storefront as well at: http://www.amazon.com/gp/browse.html?ie=UTF8&marketplaceID=ATVPDKIKX0DER&me=AOA4U2CIVIBOJ
Whether you buy at BlackHillsGoldSource.com or at their storefront on Amazon, standard items can be returned within 30 for exchange or for a full refund. However, some of Landstrom's items offered at BlackHillsGoldSource.com are custom made-to-order and cannot be returned. Since Amazon requires all items to be offered with a return policy, there are two styles of jewelry which BlackHillsGoldSource has not included in their Amazon inventory: Black Hills Gold Mothers jewelry and Black Hills Gold Wedding jewelry. To order Landstroms Black Hills Gold Mothers rings or necklaces, it's recommended to order straight from BlackHillsGoldSource at:
http://www.blackhillsgoldsource.com/mothers-jewelry
And likewise, to order Landstroms Black Hills Gold wedding rings, visit:
http://www.blackhillsgoldsource.com/wedding-rings
With the exception of Mothers jewelry and wedding jewelry, BlackHillsGoldSource plans to continually add to the selection of products available on their Amazon storefront, just as on their website.
Located in Boulder, Colorado, BlackHillsGoldSource.com maintains a close relationship with Landstroms in neighboring South Dakota, and is committed to providing Landstroms Black Hills Gold jewelry, along with the best service available to every household in America.
Michael Amato
http://www.BlackHillsGoldSource.com
Phone: 605-221-6120