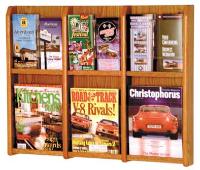 We invite everyone to take a look at our newest brochure holders whether wood, oak, or a combination of the two.
Norco, California (PRWEB) February 20, 2013
In a move to provide an even stronger array of display holder choices for customers and strengthen market position simultaneously, Plastic Products Manufacturing (PPM) is excited to announce the release of Wood Brochure Holders to its expanding line of products for 2013. This addition coincides with the release of Wooden Chart and File Holders as well as Magazine Racks and Literature Displays.
A longtime industry leader in clear acrylic products, PPM is breaking new ground with Oak and Acrylic Brochure Racks, Slope Oak Literature Displays, and Divulge Oak and Acrylic Literature Racks. "We couldn't pass the opportunity to branch out, as it were, with these beautiful oak additions to our product line," said PPM President William Saunders. "They're really stunning and sturdy…something new to offer our clients with great confidence. When and where demand calls for the warmth of oak, we're glad to accommodate."
Wood and Acrylic Brochure Racks will be immediately available in Light Oak, Medium Oak, and Mahogany with construction consisting of 2-1/2" solid oak sides, a ¾" oak bottom, and clear acrylic front panel. Counter top magazine holders have pockets 8-3/8" wide and are available with one or two pockets. Racks geared for brochure display are available in a one-pocket design as well as two tiered designs with four or eight pockets. The newest addition to this segment is an attractive, slanted Literature Display with a Business Card Holder located near the center of the base.
The slanted viewing aspect also adds to the appeal of Slope Oak Literature Displays. 8, 12, 16, and 24 Pocket Literature Displays make this a highly versatile line. Removable dividers are part of the Slope design, keeping displays neat and orderly in a variety of widths. Wall mount models ship predrilled with hardware included for easy mounting and a 49" tall display has optional legs for stand-alone display.
Wall Mount Brochure Racks for counter also hold high sales expectations for lobbies, offices, and waiting areas. Available with multiple magazine and brochure configurations, stylish Divulge Wall Racks also combine the worlds of oak and acrylic construction, with many styles featuring removable pocket inserts. Divulge floor displays come with optional legs and the state-of-the-art finish is standard with all styles, floor and wall mountable.
"We're tremendously excited about the new possibilities for our customers to start 2013," commented Saunders. "We invite everyone to take a look at our newest brochure holders whether wood, acrylic, or a combination of the two."
Specializing in manufacturing and distributing Acrylic Display Products, Signage, and Point-of-Purchase displays for more than three decades, Plastic Products Manufacturing has a strong reputation for top quality standards, outstanding delivery, and an exclusive "Customer Bill of Rights." Now extending to Solid Oak Brochure Holders, PPM sign holders, literature displays, chart pockets, display holders, and other industry leading displays are immensely popular across a broad cross-section of industries, including hospitality, medical, automotive, and food service operations.
Among its top accounts, PPM serves the needs of Glaxo Smith Kline, H & R Block, Proctor and Gamble, Starbucks, WalMart, Walgreens, Hertz, T-Mobile, Target, and Honda just to name a few. For more information about PPM and insight into these upcoming new developments, please visit http://www.plasticproductsmfg.com.