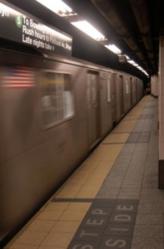 ...time to take the necessary steps and make our most used transportation system safer so these types of senseless deaths can be prevented in the future.
New York, NY (PRWEB) February 21, 2013
Transit union workers are giving out counterfeit subway passes covered in fake blood and bearing the image of the Grim Reaper with the Metropolitan Transportation Authority's (MTA) logo on his cloak, to New York City commuters as a way to draw attention to a series of fatal subway accidents over the last few months and the urgent need for safety measures. According to a Feb. 6 Source: Reuters news report, between 35 and 55 people have been killed by trains on the city's subway tracks each year over the past decade out of the annual ridership that totaled more than 1.6 billion in 2012.
The Transport Workers Union Local 100 is calling for new speed limits to be posted that would force trains to enter the station at slower speeds, the report states. But the MTA opposes speed limits saying that it would cause delays and crowded platforms, increasing safety problems.
The union also wants attendants on subway platforms during peak traffic hours and access to emergency power shut-off systems to stop trains from entering a station when someone has fallen onto the tracks, the report states. MTA has looked into installing barriers on platforms, but said that it would be cost-prohibitive, according to the article.
The MTA should take swift steps to ensure that safety of all commuters on the subway, said New York personal injury lawyer Kenneth A. Wilhelm. "They seem to be carefully considering the several alternatives before them. Now, the MTA must choose those options that best benefit the commuters and ensure their safety."
Wilhelm said it is distressing that subway accident fatalities are headed for an all-time high in New York City in 2013. "It is too late for the families of the 55 people who were killed on the subway last year. However, there is still time to take the necessary steps and make our most used transportation system safer so these types of senseless deaths can be prevented in the future."
About the Law Offices of Kenneth A. Wilhelm
The Law Offices of Kenneth A. Wilhelm is a personal injury litigation firm with an unwavering dedication to its clients. With more than 41 years of experience, our firm strives to obtain the best compensation for those who have been injured or those who have lost a loved one due to an accident or by someone else's negligence. We handle cases dealing with personal injury, medical malpractice, wrongful death, workers' compensation, dental malpractice, motor vehicle accidents, rape, paralysis, comas, seizures, false arrest, lead poisoning, trips and slips and falls, elevator accidents, construction accidents, Erb's palsy, cerebral palsy, brain damage, blindness, hearing loss, dog bite cases, fire and smoke inhalation accidents, bicycle accidents, falls from windows or scaffolds, and many other types of accidents and injuries.
Please contact us 24 hours a day, 7 days a week at 1-800-WORK-4-YOU (1-800-967-5496). We can also help with personal injury cases in New Jersey, Connecticut, Pennsylvania, or Florida. If you have been seriously injured in any of the 50 U.S. states, please call us and we will try to help you with your case.
Other phone numbers for us are:
1-800-RADIO-LAW, 1-888-WYPADEK, OR 1-800-LAS-LEYES
Please visit us at: http://www.WORK4YOULAW.com
The Law Offices Of Kenneth A. Wilhelm
445 Park Ave, 9th Floor
New York, NY 10022
(212) 545-7373