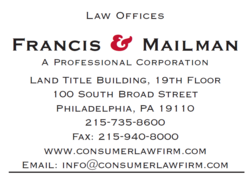 The credit reporting agencies are making horrible matching mistakes because they're not using identifying criteria to make sure it's the right person
Philadelphia, Pa (PRWEB) February 19, 2013
A new study indicates as many as 40 million consumers have a mistake on their credit report and 60 minute reporter Steve Kroft finds it's hard to get them fixed.
Eight million people a year file disputes about their credit report which usually requires a visit to the Experian, Trans Union or Equifax websites. They are largely designed to sell premium products, not resolve a dispute which is what millions of consumers are trying to do. There's a toll-free number you can call which is likely to connect you to someone on a distant continent.
A mistake on your credit report can cost consumers thousands of dollars. It can increase the interest payment on loans, prevent a person from getting mortgages or buying a car. It can prevent a person from receiving a job or getting a security clearance. It's not uncommon. A new government study released on Monday indicates as many as 40 million Americans have a mistake on their credit report. Twenty million have significant mistakes and that can cost the consumer considerably(Source: Federal Trade Commission: http://www.ftc.gov/opa/2013/02/creditreport.shtm ).
A credit reporting error can occur when a credit reporting agency puts the information belonging to one consumer on another consumer's consumer report. This happens most often when the two consumers have similar names or addresses, but not always. The credit reporting agencies have known about this problem for years and can prevent it from happening but often do not.
Just ask Sandra Cortez, a California accountant, who was featured on 60 Minutes. Her credit report was mixed with an international drug trafficker. After years of disputing to no avail she hired Francis & Mailman, P.C., a consumer law firm that specializes in suing credit reporting agencies for mixing consumer's credit files. Cortez sued Trans Union and ultimately was award $150,000 (Cortez v. Trans Union, LLC, Civ. No. 08-2465, 08-2466).
"The credit reporting agencies are making horrible matching mistakes because they're not using identifying criteria to make sure it's the right person," her attorney, James Francis said.
The Cortez decision was significant for several reasons. First, it was the first decision by any appellate court to find that the sale of OFAC data, (Office of Foreign Assets Control, which administers and enforces economic and trade sanctions based on U.S. foreign policy and national security goals including known terrorists and drug traffickers) is covered by the Fair Credit Reporting Act, and that credit reporting agencies must observe the same duties they are required to follow with ordinary credit data when selling OFAC date. The information must be reported with "maximum possible accuracy", it must be disclosed to the consumer that it is being reported about, and if the consumer disputes such data, the credit reporting agency must investigate that dispute and remove the information from the consumer's credit report if inaccurate.
Francis & Mailman, P.C. is a law firm located in center city Philadelphia, Pennsylvania that concentrates in consumer protection litigation. Founded in 1998, the firm's goal is to provide zealous advocacy to consumers subjected to unfair business, industry and trade practices. The firm represents consumers in individual actions, as well as through class action lawsuits, in the areas of unlawful credit reporting and debt collection practices, unfair trade practices, breach of warranty, truth-in-lending and other consumer matters. The firm's attorneys have significant litigation experience both in federal and state trial courts.