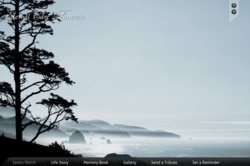 FHR is now proud to offer funeral homes exceptional free online memorials to share with their own customers.
Austin, TX (PRWEB) February 20, 2013
Funeral Home Resource, in launching its online memorial site, memorials.funeralhomeresource.com, offers co-branded memorials for funeral homes. These online memorials offer a superior experience with full-page images and special features in addition to traditional elements.
Funeral Home Resource's Online Memorials was developed so that funeral homes can:

enjoy a superior, yet free service
create multiple memorials from a single account
brand memorials to promote their funeral homes
choose to have memorials sit both on their own website and the online memorials site, or only on the online memorials site.
Even funeral homes with existing websites and coordinating memorials choose Funeral Home Resource's Online Memorials for their sites to offer their clients an extraordinary product and added exposure, as seen in this sample branded memorial.
Not only is the new site beautiful and easy to navigate, it includes a number of special features that make it an exceptional tribute or obituary site

Free
Co-Branding
Advanced browsing capabilities
Ability to track local obituaries
Guided instruction to create memorials
Ability to light a candle
Gallery and Memory Book features
Ability to accept and reject photos and comments
Grief resources.
Ron Browning, Founder and CEO of Funeral Home Resource advises, "We work hard to provide value to our funeral home partners through our no risk funeral home websites, funeral lead generation, and informational resources. FHR is now proud to offer funeral homes exceptional free online memorials to share with their own customers."
Online obituary sites draw millions of visitors each month, having the power to both celebrate a life and mourn its passing. With the launch of its Online Memorials site and co-branded memorials, Funeral Home Resource continues to increase its value to partner funeral homes and their clients.
About Funeral Home Resource
Funeral Home Resource, the outsourced online marketing department for funeral homes, grows market share for funeral homes through on-line marketing to families in need of funeral home and cremation services. Funeral Home Resource operates FuneralHomeResource.com, the premier on-line directory of funeral homes. FHR is trusted by the most established, most respected names in the funeral industry, handling all their online marketing efforts and overseeing the creation, capture, delivery, and conversion of thousands of online inquiries for them each month. Funeral Home Resource specializes in no-risk performance marketing arrangements.