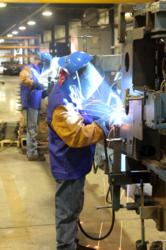 The certification adds another layer of quality control, guaranteeing superior welding procedures, weld quality, and workmanship.
Sioux City, Iowa (PRWEB) February 19, 2013
Quality is a serious and critical element to Radius Steel Fabrication – SOO Tractor's overall goal toward operational excellence. The company has a long-standing reputation for precision and quality. As Radius Steel extends its manufacturing scope from agricultural machinery into the heavy equipment / construction, oil and gas, mining, refuse, and military/defense industries, Radius Steel wants to make certain that its products meet the most stringent quality inspections. With an already impressive 6/10th of 1% in warranty work, Radius Steel continuously evaluates how they can continue to optimize and further improve upon their goals. The Canadian Welding Bureau's certification was the next step for the company in their continuous effort to exceed their customer's expectations and requirements.
The Canadian Welding Bureau is an independent, non-profit certification and registration organization for companies involved in the welding of steel. In addition to continuing the advancement in welding technology, the organization works to maintain the highest level of competence for industries employing welding. Formed in 1947, the Canadian Welding Bureau is accredited by the Standards Council of Canada as a certification body for the administration of CSA standards to industries. The CSA Standards have fastidious requirements with respect to personnel, procedures, and workmanship. Additionally, requirements are continually verified through on-site audits every six months. "The Canadian Welding Bureau certification means that our company, welders, and welding supervisors have earned a world-recognized credential that is held in high esteem amongst manufacturers internationally," expresses Ida Covi, CEO of Radius Steel Fabrication. "The certification adds another layer of quality control, guaranteeing superior welding procedures, weld quality, and workmanship."
Besides being a strategic competitive advantage, why would a company submit themselves to these rigorous standards and continual outside reviews?
1) When a customer chooses a company to manufacture their products, it is vital for both superior quality and safety that the work be done by a certified company governed by industry standards.
2) It means that the company has taken the time, as well as invested the resources, to ensure customers that their experience and workmanship is up to the strictest standards.
3) Customers are assured that the company making their products is committed to a quality system and has dedicated resources so that it can provide quality work by certified welders.
4) A Canadian Welding Bureau certified company goes through rigorous examinations to confirm that it continually maintains the personnel, organization, experience, procedures, knowledge, equipment, and capabilities, and is committed to producing top quality parts.
5) Every customer requires a different procedure for welding their product. If a company is certified, customers can rest assured that the company will know that particular procedure and be able to meet the customer's requirements.
"Our goal and promise to our customer is creating a product with zero defects," says CEO, Ida Covi. "We are relentless in looking to improve our operations. We leverage these strengths, for no matter how small the improvement, it incrementally adds value to our goals and leads to manufacturing precision."
About Radius Steel – SOO Tractor:
Radius Steel Fabrication - SOO Tractor is an established and leading steel fabrication company in the United States producing exceptional products for a range of classic brands, amongst them, Massey Ferguson, AGCO, Hesston, Challenger, Wil-Rich, SmithCo / Side-Dump, Weldco-Beales (WBM), and Silent Drive.
Radius Steel Fabrication - SOO Tractor was established in 1941 to meet the needs of the agricultural machinery industry and has become renowned for the quality of its customized steel fabrication; setting new standards of environmental protection and exceeding the requirements of its clients and partners. We are proud of our ISO 9001, CWB 47.1 certifications and in the satisfaction of our customers.... we have a warranty rate of 6/10th of 1%.
Radius Steel Fabrication – SOO Tractor's tradition of excellence provides customized fabrication integrated with electronics and cutting-edge technology to an expanding range of industries - amongst them, Mining, Military/Defense, Heavy Equipment/Construction, Refuse, Agriculture, and Oil and Gas.
For more than 70 years of service, Radius Steel Fabrication - SOO Tractor's core values are strong: We believe in providing exceptional quality; we believe in the value of "American manufacturing"; we believe in being the best at what we do."
For more information about Radius Steel Fabrication and to learn what we can do for you, please visit: http://www.RadiusSteel.com