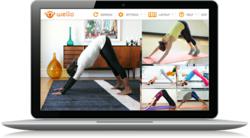 Group Workouts enable users to exercise from any location around the world, with friends, family or like-minded fitness enthusiasts.
San Francisco (PRWEB) February 20, 2013
Wello, the company that makes it easier to get and stay fit by delivering live personal training over interactive video, today expanded its fitness offerings to include Group Workouts. Group Workouts enable users to exercise from any location around the world, with friends, family or like-minded fitness enthusiasts. All workouts are led by an accredited trainer, at a fraction of the cost of a gym.
Group Workouts add a social element to Wello's popular 1-on-1 training sessions enabling up to 5 participants to see and hear one another throughout the workout making the experience even more interactive and fun. Classes are limited to 3-5 participants, and once booked online, participants can easily invite their friends and family to join. The group format is designed so instructors can customize the experience to the group, monitor each participant's form and ensure each member is getting an effective workout.
"Staying motivated and inspired to workout are two of the biggest challenges people face when trying to live a healthy lifestyle," said Leslie Silverglide, co-founder of Wello. "With Group Workouts you have the support of your group holding you accountable for workouts. This accountability, combined with personal feedback and expertise from your trainer, removes the main barriers many people have for consistently working out."
Since launching in July 2012, Wello, a Rock Health company, has built a network of hundreds of premier certified personal trainers. With an acceptance rate of just 20 percent, Wello's thoroughly qualified trainers carry over 7 years of training experience on average and two top level certifications. Classes range in concentration from general training, to yoga, to martial arts—and in specialty from Bridal Boot Camp, to Full Body Burn, to Monday Yoga Detox— offering numerous options to affordably discover the best type of workout for each client. Wello Group Workouts are less expensive than studio classes, ranging from $7.50 to $50 (for a workout with a celebrity trainer).
Wello's specialized video platform is optimized to accommodate Group Workouts, providing a wonderful viewing experience for the trainer as well as the workout participants. Wello workouts require no fitness equipment, only a computer, webcam and internet connection to get your sweat on.
"As a trainer, the Wello platform is a lifesaver. It helps me increase my clientele while allowing me to focus my energy on doing what I truly love – helping people hit their fitness goals," said Wello Trainer Judy Kuan. "The Group Workouts are particularly fun because the participants can sign up with friends and support each other. Each session is live, fresh, and slightly different offering something dynamic for everyone to look forward to. I also love the community aspect of Wello and being able to share best practices with other stellar trainers."
To learn more, visit Wello.
About Wello
Wello is changing the way that people get and stay fit by connecting fitness professionals with clients over live, interactive video for convenient, affordable and effective workouts. Wello enables clients to easily search for, schedule and pay for 1-on-1 and group workout sessions with Wello-vetted fitness professionals. Wello sessions can be done from home, a hotel room, office or local park. A computer, webcam and internet connection is all that's required – no fitness equipment needed. Visit Wello to find your fit, or follow us on Facebook, Twitter and the Wello blog.
Media Contact:
SutherlandGold for Wello
Lyndsey Besser
wello (at) sutherlandgold (dot) com
415-848-7170