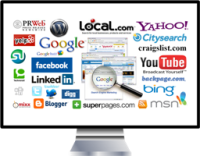 As more consumers are turning to the internet to make decisions about dental care and services, dental practices need to have a dominant presence where people are looking and buying," said Presti.
Chicago IL (PRWEB) February 19, 2013
According to Forbes, on 11/02/2012, 4 in 10 Americans use Local Search every single day. Local Internet Search for dentists and dental practices did not exist just a few years ago. Decisions dentists make today will shape the next 2 decades of attracting new patients.
LocalSearchForDentists.com is helping hundreds of local dentists across the globe achieve dominance in their local online search market. Presti's unique system combines the most important features of search engine optimization (Dental SEO) and business listings along with elements to build a positive reputation for each dentist with Google reviews, YouTube videos, press releases and more.
Dentists across the US are now beginning to realize that the changes taking place in attracting new patients could be the most substantial transformation in dentistry since the addition of water to the drill. Just a few years ago, having a dental website was considered a cool, hip thing to do, but was not deemed as essential to a practice as the dentist's hand tools and mirror. The end of a monopoly has now presented a historic opportunity for dentists to promote their practice and the benefits to almost every new prospective patient in a 30-mile radius.
"As more consumers are turning to the internet to make decisions about dental care and services, dental practices need to have a dominant presence where people are looking and buying," said Presti. "The evidence is clear that the internet is now local, and a successful online marketing strategy is vital to the success of any dental practice."
When it comes to having an online presence, most dentists do have a website, but fail to enhance their positive reputation through other various third party patient review sites, like Google+ Local and YouTube. Because of this, many dental practices consistently lose money to their competition. After completing his MBA, Presti spent years studying other internet marketing experts and developing his comprehensive online strategy for dentists.
Clients who have provided LocalSearchForDentists.com reviews state that they have utmost satisfaction in Presti's strategy and the influx of new patients that it has provided for their practices.
"What Graig and LocalSearchForDentists.com have done for my practice is simply amazing," said Dr. Eric Compton. "We now have four top listings for relatively competitive keywords in our area, and have a competitive solo listing for the most profitable niche in our business. Graig and his team understand the rules and are getting it done!"
While many dental practices still use more traditional advertising methods such as radio, newspaper and direct mail, the majority of consumers still research services online before finalizing their purchase decision. In fact, statistics show that approximately 85% of households do some sort of search for a product or service in their local area on a daily basis. Most of the time, potential dental patients still research a particular doctor or practice and read other consumer reviews online before scheduling an appointment, even if they heard about the practice through traditional advertising.
Now that AT&T has liquidated its majority stake in the Yellow Pages (Washington Post 4/9/10), and the CEO of Yellow Book stated that, "Larger coastal cities will stop printing Yellow Pages very soon," (BIAKelsey 3/3/10) dentists must move online and immediately. Some cities have now even banned the Yellow Pages without written requests from consumers. Dentists must make the shift to this new digital world including internet marketing, not your website, as soon as possible if they expect to survive.
"Graig Presti's company LocalSearchForDentists.com can take a dentist who has only been in practice for a short period of time, and still deliver them phone calls from prospective new patients from their area while another who has been practicing for 20 years with a stellar reputation, might be getting almost no new patients online because he does not have an adequate online profile for consumers to research. This is life or death in the next decades for all dental practices period."
As a leading expert in the internet marketing industry, Presti has frequently been featured as speaker at dental conferences and various other venues. His self-authored reports are provided to clients to help them better understand the importance of local search and how to achieve success with it. Presti is also being featured as a leading Champion of Health, Wealth and Success in Newsweek Magazine.
For more information about Graig Presti , Dental SEO and to read more LocalSearchForDentists.com reviews, please visit http://www.LocalSearchForDentists.com and http://www.youtube.com/watch?v=j5yH3Er0jqc.