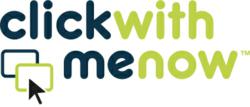 We are excited to get the chance to compete for the Accelerator Award, which honors ground-breaking and innovative companies – like ours – that are changing the future of the industry.
St. Louis, MO (PRWEB) February 19, 2013
Click With Me Now, the one-click, no download web sharing technology, has been announced as a finalist in the Interactive Accelerator Awards at SXSW this year. The company, selected as a finalist from a pool of more than 500 applications, will be competing for the award against seven other companies in the Social Technologies category.
"We are thrilled to showcase our product at SXSW," says Brian Handrigan, Click With Me Now Co-Founder and CEO. "We are excited to get the chance to compete for the Accelerator Award, which honors ground-breaking and innovative companies – like ours – that are changing the future of the industry."
This announcement comes on the heels of Click With Me Now winning a competition through Startup America and being selected as one of four tech startup companies across the country to present at the 2012 Fall DEMO in Silicon Valley, renowned for launching the nation's most eye-opening technologies.
Click With Me Now allows consumers to securely share their web screen in real time and with no downloading. This real time "social shopping" experience gives users the comfort, confidence and security they're looking for while making important online buying decisions.
Every year, more purchases and more decisions are being made online. Click With Me Now can be effectively used in healthcare, retail, travel, real estate and financial services research and purchases. Every day, 10,000 people turn 65 and have to make retirement-related decisions.
"While Click With Me Now can be used for any important decision, it will be timely in 2014 where, as part of the Affordable Care Act, approximately 115 million Americans will be making health care decisions and purchasing insurance," says Mark Comiso, Click With Me Now co-founder and president. "Click With Me Now can certainly help in facilitating these, and other, important purchases."
To date, co-browsing has been primarily focused on business collaboration, particularly screen sharing during meetings. Consumers have been able to use these technologies, but until now they have been expensive, require a download and were impractical for consumer collaboration.
Click With Me Now is the next evolution of websharing. This social browsing experience allows a person to share webpages with people they trust, from friends and family to advisors, regarding everything from health or financial decisions to getting opinions on what car or television to buy. This unique technology works safely, securely and at no cost to the consumer.
"Our vision, in addition to facilitating online purchases with the help of friends and family, is to help companies understand how people share web sites with each other. It's learning from this collaboration that will ultimately make the Internet a better place for everyone."
About Click With Me Now
Click With Me Now is a web-based SaaS technology company that has created a simple, patent-pending way for everyday web users to instantly share the web session they're viewing with the friends, family members or advisors they trust – using a one-click, no download, no-cost solution.
For more information, visit http://www.clickwithmenow.com. Follow us on Twitter at @ClickWithMeNow.
About SXSW Interactive
The 20th annual SXSW Interactive Festival will take place March 8-12, 2013 in Austin, Texas. An incubator of cutting-edge technologies and digital creativity, the event features five days of compelling presentations from the brightest minds in emerging technology, scores of exciting network events hosted by industry leaders and an unbeatable line-up of special programs showcasing the best new web sites, video games and startup ideas the community has to offer. From hands-on training to big-picture analysis of the future, SXSW Interactive has become the place to experience a preview of what is unfolding in the world of technology.
All product and company names herein may be trademarks of their registered owners.
###