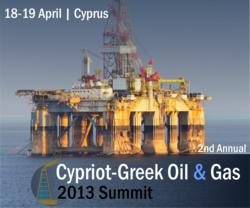 London, UK (PRWEB UK) 19 February 2013
IRN, Global Summits organiser, is delighted to announce that the 2nd Annual Cypriot-Greek Oil & Gas Summit will be held under the auspices of the Greek Ministry of Environment, Energy & Climate Change, welcoming a key speaker from the Ministerial body, Mr. Ioannis Maniatis, the Head of Sector and former Minister. Mr. Charles Ellinas, the Chairman of KRETYK, the new Cypriot National Hydrocarbon Company, will join the Summit for an exclusive presentation along with his newly appointed colleague, 2nd vice Chairman and previously Energy Director from the Cypriot Ministry of Commerce, Industry and Tourism, Mr. Solon Kassinis.
This Summit will focus on the hydrocarbon industry on-shore and offshore Cyprus and Greece, with an expert speaking faculty discussing key developments in the region. Among the faculty of the key speakers that will deliver exclusive presentations are:

Øystein Lie, MultiClient Manager, PGS, Norway
Nikolaos E. Farantouris, Head of Legal, DEPA, (Public Gas Corporation),Greece
George Paparsenos, Chairman, DESFA, (Greek Gas Transmission System Operator),Greece
Costas Ioannou, Chairman, DEFA(Natural Gas Public Company), Cyprus
Yannis Grigoriou, Head of Exploration and Hydrocarbons Director, HELLENIC PETROLEUM S.A. Greece and Cyprus
The 2nd Annual Cypriot-Greek Oil & Gas 2013 Summit will be held in Limassol, Cyprus, on 18th- 19th April, sponsored by the London named Law Firm of the Year 2012, Clyde & Co (Gold Sponsor), Norwegian PGS-Petroleum Geo-Services ASA, NRC (Nuclear Regulatory Commission), an independent agency of the United States government, OBEID Law Firm, Lebanon-based international law firm operating in MENA region, and Air France - KLM.
For more information about the summit contact IRN at info(at)irn-international(dot)com, +44 (0) 207 111 1615.