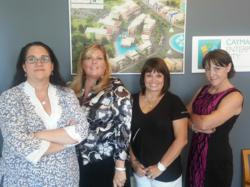 I love it! This island has given permission for this entrepreneurial community to grow businesses.
George Town, Grand Cayman, Cayman Islands (PRWEB) February 28, 2013
After a soft launch in February, 2012 Cayman Enterprise City is marking its first year anniversary with a team headed by Cindy O'Hara Chairwoman of the CEC Board.
"It's been an incredible year for Cayman Enterprise City," says Ms. O'Hara. "Many companies are finding international regulation to become more restrictive and see CEC as the ideal location from which to operate their international businesses."
The Chairwoman adds that 15% of the companies in the Zone are owned by female entrepreneurs, who are taking advantage of CEC's cost-effectiveness, flexibility and networking opportunities. This delights Ms. O'Hara, who says forward-thinking women, perhaps frustrated by limitations in the boardroom and the traditional business landscape, will find a creative, supportive and flexible environment at Cayman Enterprise City and the Cayman Islands. She proudly points out that the Cayman Islands Government currently has its first female Prime Minister.
"In this traditionally male dominated business world, women have to be smarter, more proactive and work harder to get ahead. We lead multi-tasked busy lives as entrepreneurs and mothers, so we need flexibility," said O'Hara a working mother who understands the demands and the need for flexibility which is often the key to being successful.
Among the entrepreneurs on the CEC scene is businesswoman Cheryl Womack founder of VCW Holding, LLC an investment venture. Cayman's excellent access to North and Latin American markets, first world business and IT infrastructure, zero tax and lighter touch regulations, plus CEC's business concessions including a fast 10 day streamlined setup and import duty exemption, give her plenty of reasons to base her international business in the Zone.
"I love it! This island has given permission for this entrepreneurial community to grow businesses," said an enthusiastic Womack. "It is rewarding people who are thinking outside the box, and if a business owner wants to be global and be global quickly, it can happen here."
Womack is joined by Asma Yildirim, who has founded Moonworx SEZ Limited to develop and launch Internet portals in Turkey, and Elaine O'Donovan, who is quick-starting her consulting/career coaching business, Star Gazer Enterprises. All three are taking advantage of
"Business owners are not tied into taking a large office that they may not need or can afford right now, or by taking a small one they will soon out grow," she said. "We can provide a collaborative work space today, a quiet corner tomorrow for concentration and a war room at their command for any business platform; limitless flexibility for today's Chairwoman."
This flexibility gave Asma Yildirim, the confidence to start her own business and establish in the Zone. "Turkey is a fast growing market and I have skilled people working with and for me. I know the market there really well and also speak Turkish, so I expect to be successful," she said.
"I heard about CEC through friends in the financial services sector," said Elaine O'Donovan. "I decided to join the CEC community because I wanted an international 'reach' for my business and I felt the CEC model would allow me to achieve that whilst being based in Cayman."
Women entrepreneurs world-wide today recognize the value in working together to get ahead. Cheryl Womack is also founder of "Leading Women Entrepreneurs of the World" an organization that provides a forum for women to exchange ideas and network. She believes that as a large, nurturing incubator for business women, CEC will play a major role in helping the next generation of female entrepreneurs.
"It can be an environment where they won't be intimidated as they learn strategies, management and realize just what a business can do," she said. "That's what I love about the Free Zone! I've got some great ideas and contacts – the possibilities are endless."
"There is nothing more powerful than smart women, working together and assisting each other in achieving their respective goals," says Cindy O'Hara. "Over the coming months we will be brainstorming to develop more ways to assist women entrepreneurs."
There are other reasons why women entrepreneurs are drawn to the Cayman Islands. In addition to being the perfect place from which to conduct international business, this Caribbean paradise is also a wonderful place to live and raise kids because of its excellent schools, health care facilities and sporting and leisure activities.
"What we are hearing time and time again is that lifestyle is important, particularly for those women who have families," explains O'Hara. "Cayman is safe for families, the weather is very pleasant year round and the Caymanian people are very warm and welcoming. Our national airline Cayman Airways' tag line is "those who know us, love us" and our zone clients are finding this to be true."
About Cayman Enterprise City
Cayman Enterprise City is a Special Economic Zone in the Cayman Islands focused on knowledge-based industries, technology companies and specialized services businesses. With its own dedicated Government Authority and guaranteed fast-track processes, International companies can quickly and efficiently establish a genuine physical presence in Cayman which demonstrates substance over form. This enables businesses take advantage of Cayman's jurisdictional benefits which include zero corporate tax, zero income tax and zero capital gains tax, along with a raft of special zone concessions and incentives. These concessions were designed to attract international companies from five specific high-tech sectors; internet and technology, media and new-media ventures, biotechnology, commodities and derivatives, and academia. For more information call +1-345-945-3722 or visit http://www.CaymanEnterpriseCity.com.