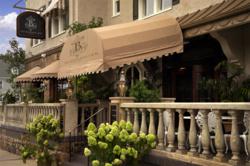 "We're honored to be recognized as one of the best hotels by U.S. News and World Report," said Proprietor Harold Imperatore. "Our team is committed to providing exceptional experiences for our guests so it is gratifying to know that we are succeeding."
Bernardsvile, NJ (PRWEB) February 20, 2013
[The Bernards Inn, a luxury boutique hotel located in the quaint hamlet of Bernardsville, has earned recognition as one of the Best Hotels in the USA for 2013 by U.S. News and World Report. The Inn was recognized at the fifth best luxury property among 625 in New Jersey.
The U.S. News 2013 Best Hotels in the USA rankings are calculated from the opinions of professional travel experts, guest reviews, awards and accolades, and luxury class rating. Nearly 2,000 luxury hotels throughout the United States were evaluated for the 2013 rankings which are available at: http://travel.usnews.com/ .
"We're honored to be recognized as one of the best hotels by U.S. News and World Report," said Proprietor Harold Imperatore. "Our team is committed to providing exceptional experiences for our guests so it is gratifying to know that we are succeeding."
"This is our third year ranking hotels, and the bar continues to climb for luxury properties," said Chad Smolinski, Vice President of Rankings and Reviews at U.S. News & World Report, in a news release. "Desirable amenities and hotel loyalty programs will no longer suffice. People are seeking hotels that go above and beyond to give their guests an unforgettable experience.
The Bernards Inn has consistently garnered the hospitality industry's top awards, including the AAA Four Diamond Award for both dining and accommodations for 15 consecutive years; Wine Spectator's "Best of Award of Excellence" for the tenth consecutive year; and the DiRona Distinguished Restaurants Award.
ABOUT THE BERNARDS INN
Established in 1907, the Bernards Inn is an award-winning restaurant and inn located in the heart of downtown Bernardsville, New Jersey. A Somerset Hills landmark, The Bernards Inn welcomes guests with the style and elegance of a small European luxury hotel, while preserving the charm of a historic American country inn. Under the ownership of Hampshire Destination Properties, The Bernards Inn recently marked its 100 year anniversary with a multimillion dollar renovation and redesign. The Inn offers fine dining, wedding and banquet services, conference rooms, as well as 20 well-appointed guestrooms. For more information about The Bernards Inn, call 908-766-0002 or visit http://www.bernardsinn.com.