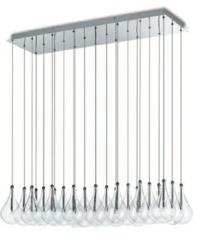 Now available on Interior-Deluxe.com - Drop suspension by Alma Light.
Tarpon Springs, Florida (PRWEB) February 20, 2013
For many years, Interior Deluxe has been constantly serving the lighting industry with various ultra modern lighting fixtures from prominent brands and designers. Decked with elegance and crafted for comfort, its vast range of fixtures suit every budget and any location. And yet again Interior Deluxe has recently started carrying another notable brand - Alma Light from Barcelona, Spain.
For over 15 years, this Spanish brand has immensely contributed towards the designing and creation of modern and distinctive home lighting. Alma Light products possess innovative designs and high quality production, adapt to all security standards, provide effective sales service, and offer competitive prices. The recently launched attractions of this brand include the Drop Cluster Series, the sleek and modern Madame Series and the Capitone pendant that provides a unique lighting effect.
This Spanish brand majors in designing and development of exceptional modern indoor lighting. Each lighting lamp manufactured by Alma Light holds its own personality and style. The Capitone 5400 Suspension Lamp has been designed by the eminent Oriol Llahona. Composed of polycarbonate, the lamp screen imparts an elegant translucency.
The entire Capitone collection that has resulted from the collaboration of Alma Light with Oriol Llahona has been provided with an engraving padding effect on the inner side, which further perks up the lighting luminaries. Another matchless feature of this range is the first time implementation of solid surfaces in the lighting products.
This material has earlier been used only as countertops in kitchen, sinks in bathrooms, and others. But Alma Light has ventured the use of this material in lighting. Employed with the help of molds, these solid surfaces can adopt any desired shape. Also, the brand has managed to add a translucent effect to this material without losing any of its original benefits.
Another excellent collection of Alma Light comes from the sleek Madame Series which features urban and classy designs that are fit for any form of commercial or residential applications. The Madame 5651 Suspension Lamp is available in two gorgeous finishes- the white-silver and the black-gold.
The designer Oriol Llahona got the inspiration for this captivating design from the masses who earned their bread and butter on the streets of the Rue Saint-Denis in Paris and the red district of Barcelona. Undoubtedly, such a fascinating idea was sure to yield an innovative design. Made by painting metal, this Madame lamp has been equipped with a lighting bulb that provides incandescent, halogen, and other compact fluorescent radiance.
Anastasia Phillipine from New York communicated her experience with the Alma Light's Madame Series, "For my new house in LA, I wanted extraordinary lighting lamps. So, I picked up the lustrous and modern Madame lamps. To my surprise, the lighting fixtures not only imparted a sophisticated and stylish look to the house but also perked up the entire location with their radiance. I never knew lighting products can help so much in boosting the personality of a space. Now onwards, Alma Light is the only solution to my lighting problems. I wanted to try it and I wasn't disappointed."