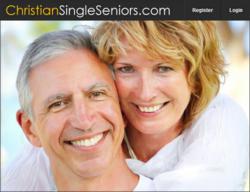 We go to great lengths to ensure the safety of our clients
Torrance, California (PRWEB) February 20, 2013
A recent Federal Bureau of Investigation (F.B.I.) press release warning of the dangers of online dating scams has prompted senior dating website ChristianSingleSeniors.com to reach out to users to employ safe dating practices when using its service.
"While many of our clients are technologically savvy and wise to the darker side of the Internet," says Olga Wright, a spokesperson for the senior dating site. "The simple fact is that offering a senior dating service means there are novices to the World Wide Web who can be more trusting, allowing them to fall victim to these criminals."
The FBI's report, titled "Looking for Love? Beware of Online Dating Scams," details how criminals are using online dating sites and chat rooms to form bonds with users only to have them send money, cash phony checks or ship stolen merchandise. "Thankfully, our users have not reported any such scams happening to them, but it is a shame that this should be a concern," says Wright. "Our clients come here in hopes of reaching out and connecting with others, and it is unfortunate that there are those who would use this to their advantage."
To assist its clientele not falling victim to such swindles, the senior dating site has contacted members with details on how to stay safe when dating online. "We go to great lengths to ensure the safety of our clients, and we hope they take heed in following our tips so the senior dating experience continues to be a pleasant one," says Wright.
According to the longtime senior dating site advocate, dating locally is the safest place to begin a search for a significant other. "A little information goes a long way," says Wright. "If this person lives in the same town, you may have a mutual friend or acquaintance that can vouch for them."
Similarly, Wright recommends that online dating take place at sites known to others. "A solid reputation is just as important in regards to where we date as it is with who we date," says Wright. "Offering senior dating since 1997, our clients have come to trust us and know we offer services that are always in the best interest.
Also advised is keeping personal information private. "Just look at the turmoil that surrounded the recent Manti Te'o case," says Wright referring to the Notre Dame football player who was lured into an online relationship with a woman that did not exist. "That was simply a hoax, but just think of how that situation would have been compounded had there been either a loss of money or other criminal matters taking place. It's vital to your security that you don't reveal personal financial information to someone you have never met."
Finally, Wright advises users to meet before becoming too attached to a potential mate, warning that absence doesn't always necessarily make the heart grow fonder. "There's no one way to date, and not all people are comfortable at meeting right away," begins Wright, "But trust is something that is earned over time, and that process can only begin once all the facts are on the table, which can only occur when two people sit down at one."
About ChristianSingleSeniors.com
Part of a leading Christian dating network established in 1997, ChristianSingleSeniors.com is unique in its approach: all of its members are committed to seeking out long-term, faithful relationships. Unlike most senior dating sites, dating services within the network do not allow casual dating. The sites of this Christian online dating community have gained great popularity and are frequented by Christians from all over the world. An approved member of the BBB online Reliability Program, Christian Singles Commitments Corp is committed to providing safe and secure online dating.