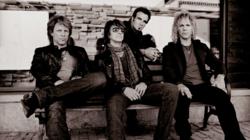 Denver, CO (PRWEB) February 19, 2013
Almost 40 dates remain on Bon Jovi's latest tour, causing search traffic for tickets to continue jamming along at a high volume.
In fact, demand for seats was so overwhelming for last Sunday night's concert in Toronto, another performance was scheduled for Monday.
Set to promote the band's twelfth studio album called What About Now, the tour is named Because We Can – The Tour after one of their latest songs.
The rockers perform in Ottawa tomorrow night, February 20, 2013, before embarking on a series of U.S. dates that start at the Consul Energy Center in Pittsburgh on February 21 and at the Bryce Jordan Center in State Park, Pennsylvania on February 23.
From there, stops in Buffalo, Atlanta, Tampa, Sunrise, Charlotte, Nashville, Cleveland, Columbus, St. Louis, Louisville, Oklahoma City, Lubbock, Calgary, Edmonton, Winnipeg, St. Paul, Austin, Dallas, Kansas City, Des Moines, Denver, Salt Lake, Los Angeles, Las Vegas, Glendale, and San Jose are planned.
Next comes the European leg of the tour, which opens in Ireland on June 15, with stops scheduled in Germany and Switzerland. The current schedule calls for the tour to return to the U.S. for a gig in Chicago on July 12, and a series of concerts in Detroit, Foxborough, East Rutherford and Uncasville on October 25, 2013.
"Search traffic for Bon Jovi tickets continues to hit high volumes," said Felina Martinez at online ticket marketplace BuyAnySeat.com. "As many of the band's upcoming concerts are starting to fill up, we're proud to be able to offer fans a great selection of cheap Bon Jovi tickets, with a worry-free guarantee to protect their purchase," said Martinez.
"To access the complete and continuously-updated selection of tickets we now have available, customers can go to BuyAnySeat.com and search for Bon Jovi – then select their tickets," said Martinez.
After over 30 years on stage, 12 studio albums and some 2,700-plus concerts performed to over 35 million fans in over 50 countries around the world – Bon Jovi is still rocking and rolling out the hits.
Formed in 1983 in New Jersey, Bon Jovi consists of lead singer and namesake Jon Bon Jovi, guitarist Richie Sambora, keyboardist David Bryan, and drummer Tico Torres. The American rock band delivers an eclectic combination of rock, country and pop influences in their music.
The band is also known for their dazzling state-of-the-art productions with the latest technology in sophisticated stage lighting and special effects that never fail to leave fans speechless.
The latest trek will treat the faithful to one-night-only shows in numerous U.S. arenas across the U.S. continent. The road trip also includes multiple stadium shows, including a two-night gig at MetLife Stadium in the band's home state of New Jersey, as well as recently added dates at Gillette Stadium in Foxborough, Massachusetts and Ford Field in Detroit, Michigan.
Overwhelming demand for the band's previous Canadian dates led to second shows in Montreal and Toronto. According to the band's website, the group recently booked the dates in Foxborough and Detroit for the same reason, and may add further dates to their already extensive tour as needed.
To shop for cheap Bon Jovi tickets, visit BuyAnySeat.com.
About BuyAnySeat.com: An online ticket marketplace, BuyAnySeat.com connects sports, theater and other live entertainment fans to an extensive worldwide network of ticket sellers. The site's simplified listings and navigational tools enable fans to easily locate, compare and purchase inexpensive, discounted or lower-priced tickets to virtually all advertised sports and entertainment events around the globe.
The site, which is PCI-compliant and Norton Secured, also provides customers with a complete Worry-Free Guarantee on all ticket purchases. Based in Denver, Colorado, BuyAnySeat.com is a subsidiary of Denver Media Holdings. For more information, please visit http://buyanyseat.com.