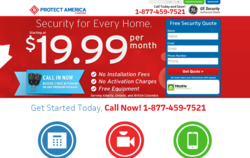 There's a lot of hard work and dedication that goes into marketing a home security company.
Austin, Texas (PRWEB) February 18, 2013
"We couldn't be more proud of our marketing department for their amazing work," said Scott Fleming, Protect America's chief operating officer. "A special thanks goes to Security Sales and Integration magazine for their recognition of our team."
The SAMMY awards are presented annually to security companies that demonstrate excellence in marketing, advertising, and overall company operations. Protect America received three nominations this year for Best Company Logo Design, Best Company Newsletter, and Best Display Advertisement. The awards will be given out on April 9th, 2013 in Las Vegas on the eve of the ISC West, a conference of home security providers.
"There's a lot of hard work and dedication that goes into marketing a home security company," said Melissa Walker, the vice president of marketing for Protect America. "I'm really proud of the work we've produced and it's great to be noticed by others in the industry."
Representatives from Protect America will be attending the Las Vegas awards show. As a company, Protect America tied for the second most nominations overall. The SAMMY awards also recognize achievements in fields that Protect America does not participate such as Best Broadcast Advertisement and Best Vehicle Graphics Design.
Visit http://www.ProtectAmerica.com for more information about wireless home security.
About Protect America, Inc.
Founded in 1992, Protect America, Inc. is based in Austin, Texas and employs approximately 300 people. A pioneer of the self-install wireless home alarm system, Protect America is part of the same family of companies that includes Quicken Loans and the Cleveland Cavaliers. For each of the past 6 years, Protect America has been named the number one home security company in the U.S. by Top Consumer Reviews. Protect America is dedicated to providing reliable and affordable home security that's within the reach of any household budget.