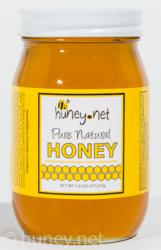 Everywhere I go, there's honey. I can't think of a product that is more representative of a region.
Dallas, Texas (PRWEB) February 20, 2013
Former pastry chef Joely Rogers discovered her true calling is honey, not sugar, and formed huney.net, LLC, in October of 2012, an online honey store focusing on unique raw honey varietals from the regional United States. Based in Dallas, Texas, huney.net is a woman-owned business that aims to re-introduce regional varietal honey and serve as an informational resource about honey and honeybees via http://www.huney.net.
As Rogers tells it, "When I was growing up in south Mississippi, fresh raw honey was always available, but my family and I never analyzed it or discussed the floral source. I guess at the time I took it for granted, like tomatoes straight from the garden or freshly caught shrimp from the Gulf of Mexico. In 2011, I learned to make mead (honeywine) with a beekeeper and was introduced to a whole world of honey. I fell in love with its variety and complexity and decided to share what I'd learned by opening huney.net."
Grocery store honey, the kind with which most people are familiar, is often an ultra-filtered blend of honeys from different parts of the United States and/or Argentina and Mexico. Ultra-filtration, a process where the honey is heated from between 150-170 F and passed through fine filters, increases its liquidity and clarity but removes all wax, propolis, and pollen, and much of its health benefits and taste as well. At Rogers' insistence, all of her company's honey is raw, meaning not heated above 120 F, minimally processed, and strictly regional.
Huney.net's current honey selection is Texas-centric because, as Rogers says, "With its abundant sunshine and four distinct geographic regions, Texas is a perfect place for honey." Rogers, however, plans to expand her current selection to include honey from all fifty states. "Everywhere I go, there's honey. I can't think of a product that is more representative of a region. Honey is truly the essence of a place."
Huney.net, LLC has eight varieties of pure, raw specialty honey including Buckwheat, Sourwood, Orange Blossom, plus five Texas varietals: Cotton, Huajillo, Wildflower, Sweet Clover, and Tallow Tree. For more information visit http://www.huney.net, email workerbee(at)huney(dot)net, or call 469-834-0838.