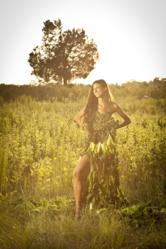 We are excited about adding Kristina to the bill, as she is the current expert in her community and nationwide on how to eat and live a lifestyle composed completely of raw, organic fruits and vegetables.
New York, NY (PRWEB) February 21, 2013
Raw Food Vegan, Culinarian, innovator, and motivational speaker Kristina Carrillo-Bucaram will be featured as master of ceremonies the New York City Vegetarian Food Festival this year on March 2nd 2012 – March 3rd 2012. The festival is expected to draw over 6,000 attendees and will be held at the Metropolitan Pavilion in the Chelsea neighborhood of Manhattan. The festival features a gamut of vegetarian food companies, restaurants, health and wellness vendors, and green movement advocates who will attend to engage with their fellow vegetarian community. One of the most recognized representatives of the Vegan lifestyle, Kristina Carrillo-Bucaram has been invited to be the emcee of this much anticipated event.
Kristina Carrillo-Bucaram is the founder of the nation's largest 501 (c) 3 non-profit Co-Op, the Rawfully Organic Co-Op and her own consulting brand called FullyRAW, an online destination for those seeking to live a healthier lifestyle with a global following. Her life story and dedication to eating more locally and natural foods has earned her the opportunity to speak and demonstrate her wealth of knowledge to more than 6,000+ attendees expected at the festival.
Kristina is honored to be a part of the festival and inspire guests with an introductory education on the benefits of eating a plant-based diet. Kristina will be interacting with the audience present, showcasing various culinary workshops and demonstrations on how to properly make energy infused juices and smoothies with greens, fruits, and herbs in their RAW state.
Organizer and creator of the event, Nira Paliwoda comments, "The NYC Vegetarian Food festival is so enthusiastic about welcoming Kristina Carrillo-Bucaram. We are excited about adding Kristina to the bill, as she is the current expert in her community and nationwide on how to eat and live a lifestyle composed completely of raw, organic fruits and vegetables. We look forward to having her in the mix, especially coming all the way from Texas."
###
About Kristina Carrillo-Bucaram
Kristina is a personality representing the modern side of the Vegan movement, championing the benefits of living a RAW Vegan lifestyle. She is the founder of the nation's largest Co-op of organic and local produce based in Houston- Rawfully Organic. Kristina has also founded FullyRaw; an online destination for those who want to be inspired by a healthier lifestyle. FullyRaw has a global following of visitors that also interact with Kristina on both her You Tube Channels: FullyRaw Kristina and Rawfully Organic, which currently boast over 2 Million views. Her recipes have been recently featured in various online publications like the Ellen Degeneres Vegan Blog, and she has also recently been featured on CNN en Español discussing the benefits of eating a more plant based, organic diet to combat illness. Kristina hopes to share her recipes with a RAW twist for the everyday table with her first cookbook, FullyRaw Recipes, a RAW Vegan twist on foods for the everyday table.
Links for Kristina's Brands:
Rawfully Organic & FullyRaw
kristina(at)rawfullyorganic(dot)com
Rawfully Organic Co-op: rawfullyorganic.com
FullyRaw: http://www.fullyraw.com
Blog: http://rawfullyorganic.com/blog/
Facebook: http://www.facebook.com/kristinacarrillobucaram
FullyRaw You Tube: http://www.youtube.com/fullyrawkristina
ROC You Tube: http://www.youtube.com/rawfullyorganic
FullyRaw Facebook: http://www.facebook.com/FullyRawKristina
ROC Facebook: http://www.facebook.com/rawfullyorganic
About the NYC Vegetarian Food Festival:
The festival is coordinated by Producers Nira Poliwoda and Sarah Gross of US Veg Corp and plans to feature live entertainment, world class speakers, cooking demonstrations, and vegan food samples from all over the nation. Currently, the US Veg Corp and the NYC Vegetarian Food Festival has rising visibility with 7,300+ Facebook fans, 1,900+ Twitter Followers, and 1,000+ newsletter subscribers. (http://nycvegfoodfest.com)