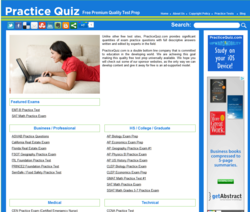 PracticeQuiz.com has added 50 free review questions to help test takers prepare for the Financial Accounting and Reporting section of the Uniform CPA accountant certification exam.
Boston, MA (PRWEB) February 21, 2013
PracticeQuiz.com announced today that it has added review questions for the Uniform Certified Public Accountant (CPA) exam to it's extensive collection of free business and professional certification review and test prep questions.
"We are very happy to be able to add the uniform CPA to our professional certification offerings," remarks Ted Chan, founder of PracticeQuiz.com, "Accounting is a growing market, and the CPA test is highly detailed and competitive. Testtakers have to be rigorously well-prepared."
The Uniform Certified Public Accountant exam is a rigorously 14-hour test designed to determine the evaluate the knowledge of aspiring accountants. The exam is broken down into four separate exam sections: Auditing and Attestation, Financial Accounting and Reporting, Regulation, and Business Environment and Concepts.
PracticeQuiz.com has added 50 review questions for the Financial Accounting and Reporting section of the Uniform CPA. Each practice question is originally written to simulate the exam format and is paired with an explanatory answer to help the user expand their financial accounting knowledge.
PracticeQuiz.com is an online test preparation enterprise based in Boston. The website's social mission is to increase access to education by providing high-quality test preparation content for free. The website now boasts more than 80 free practice exams, with more expansion in the near future. Tests include certification exams, high school and college qualifications, teaching exams, and medical tests.
Follow PracticeQuiz.com on Twitter (@PracticeQuiz) for the latest news on exam updates and upcoming releases!