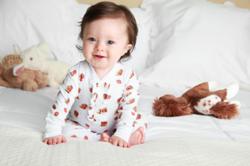 Atlanta, GA (PRWEB) February 19, 2013
Postpartum Progress, the world's most widely read blog on postpartum depression (PPD), is officially launching the first baby product created specifically to help fight PPD: Jammies by Hélene Lauré.
Jammies (http://www.jammiesforbabies.com) is a sweet new line of baby onesies created by Hélene Lauré, a fashion designer whose clothing designs for women have been sold to such stores as Henri Bendel, Bloomingdale's, Bergdorf Goodman and Saks Fifth Avenue. Hélene wanted to create a new business that gives back, so she designed Jammies with the intention of helping to benefit moms with postpartum depression, the most common complication of childbirth. For each Jammies sold, Hélene's company, Two Mice, A Bear and A Bunny LLC, will donate 10% of the profit to Postpartum Progress, a national nonprofit that raises awareness of postpartum depression and all other mental illnesses related to pregnancy and childbirth.
Nearly one million mothers in the US struggle with postpartum depression each year, yet only 15% ever receive professional help. This is a true public health epidemic given what research has shown to be the long-term negative effects of untreated PPD on both mother and baby, including potential cognitive and developmental delays and future psychiatric illness. Jammies will help ensure more new mothers are able to recognize PPD and reach out for help.
Jammies onesies are 100% pure cotton onesies for boys and girls made from a soft and breezy light gauge cotton Jersey and uniquely packaged in a sweet little jam jar. The design is reminiscent of the all-American long john, with its Henley tab closing and ribbed cuffs, and a flirty ruffle on the girls' style. Mr. Bear, Lily the bunny, and Cinnamon & Ginger the identical mouse twins are the delightfully hand-drawn characters featured on Jammies onesies.
Postpartum Progress Inc. (postpartumprogress.org) is a registered 501c3 organization focused on vastly improving support for women with perinatal mood and anxiety disorders like postpartum depression, postpartum anxiety, postpartum psychosis and depression during pregnancy. The organization was founded by Katherine Stone, creator of PostpartumProgress.com, the world's top blog on PPD. In 2012, More magazine named Stone to its annual Fierce List for her advocacy work supporting pregnant and new moms' mental health. Disney' Babble.com named Postpartum Progress to the Top 100 Mom Blogs in both 2011 and 2012.