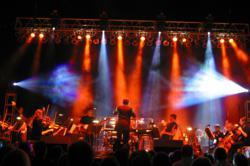 "When we first came on stage, the audience gave us polite, almost classical applause," says Havens. "Then we hit the first note and they realized it was a rock show."
Toledo, OH (PRWEB) February 21, 2013
Bridging the gulf between rock n' roll and classical music, The Toledo Symphony performs The Music of The Eagles at the Stranahan on Saturday, April 13, 2013. Amplified by a full rock band and accompanied by singers Terry Brock, Randy Jackson and John Hines, creator Brent Havens guest conducts the ensemble as they capture The Eagles' amazing vocal harmonies surrounded by the orchestra in a concert rich with melodies and lush harmonies like you've never heard before.
Tickets On Sale Now - Call 419-246-8000 or visit http://www.toledosymphony.com.
"My concept for The Music of The Eagles was to take the music as close to the originals as we could, keeping those wonderful harmonies intact and then add some colors to enhance what the original group had done," says Havens. "The wonderful thing with an orchestra is that you have an entire palette to call upon. The band is reproducing what the Eagles did on the albums, as closely as possible, and then having an orchestra behind the band gives the music a richness, a whole different feel, a greater sense of depth."
Delivering the vocals out front are Terry Brock, Randy Jackson and John Hines, acting as a window between the audience and reworked material. "The music itself is one thing, but these singers, along with the background singers, more than capture the spirit of the original songs," says Havens.
The 2 hour concert features 18 Eagles tunes, including Heartache Tonight, Desperado, New Kid in Town and Hotel California.
The symphonic rock hybrid has met with approval on both sides of the podium.
"When we first came on stage, the audience gave us polite, almost classical applause," says Havens. "Then we hit the first note and they realized it was a rock show."
Classical musicians also enjoy the change of pace. "This is music that these musicians grew up with just as we did," says Havens. "I see them singing along with a number of the songs as we're playing them."
# # #
CONTACT:
Mark Puma
Freefall Presentations
802-747-7711 ext 11
markpuma(at)freefallny(dot)com