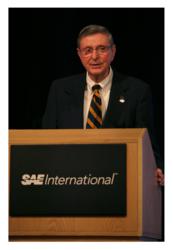 Mr. (Arnold) Siegel is a pioneer in the field of automotive safety. His research has led to many safety features that are now common in production vehicles.
WARRENDALE, Pa. (PRWEB) February 19, 2013
Mr. Arnold W. Siegel, President, Accident Reconstruction Associates, Inc., is the recipient of the 2013 SAE International Medal of Honor. The medal will be presented during the SAE Award Ceremony: Honoring Excellence held in conjunction with the SAE 2013 World Congress, which will be held April 16-18 in Detroit.
The Medal of Honor, established in 1986, is presented annually and is SAE International's most prestigious award. The award recognizes an SAE member for his or her unique and significant contributions to SAE International and is funded through the SAE Foundation.
Mr. Siegel is a pioneer in the field of automotive safety. His research has led to many safety features that are now common in production vehicles. In addition, he helped initiate SAE International's entry in the automotive safety field and contributed to many SAE standards and conferences; the result of which has greatly improved auto safety globally. Through the years, he has served as a university professor and industry consultant. He helped pioneer research on barrier, side-impact, rollover head-on, motorcycle and pedestrian crashes. He built the first infant and child dummies, crash tested them and worked on and designed the first rear-ward facing infant safety seats and child booster seats. He and a physician began non-fatal, on-scene accident investigation using multi-disciplinary teams. He co-directed trauma research groups and developed and organized training programs for several governmental agencies, including the U.S. Department of Transportation and the National Transportation Safety Board. Mr. Siegel has more than 50 years of collision and injury experience and analysis, both for research and for forensic matters.
Mr. Siegel has been a major factor in the success of both SAE International and the SAE Foundation. He has served on the SAE International Board of Directors, numerous Society committees, sub-committees and operating boards. In addition, he also has been a long-standing member of the SAE Foundation's Board of Trustees and, for years, served as co-chair of the SAE-managed STAPP Car Crash conference, which helped to place SAE International at the center of automotive safety progress. In 1987, Mr. Siegel established the Arnold W. Siegel International Transportation Safety Award. This prestigious award consists of a gold medal and a honorarium.
Mr. Siegel has been an important reason for the outstanding success of the SAE Foundation's programs, especially A World In Motion®. He was a key contributor in the planning and undertaking of the SAE Foundation's highly successful $25 million Capital Campaign. Through SAE International and the SAE Foundation, Mr. Siegel has tirelessly worked to improve education in science, math, technology, and engineering (STEM) at all levels.
Mr. Siegel is an SAE International Fellow, and a member of the California Association of Criminalists, Sigma Xi and is a professional safety engineer. He was a member of the Attorney General's Traffic Safety Committee and the California Passenger Safety Resource Panel, and has been a consultant to many agencies and companies, including Physicians for Automotive Safety, and the SAE International Accident Investigation Practices Subcommittee. Mr. Siegel has received many rewards, including: Abelson Leadership Award 2008; Montana Ambassador's Plenipotentiary 2001 Award; Humanitarian Fellowship Award; Save the Children Federation Distinguished Service Award; Service Technician Society; and Legacy of Gold Award from West Yellowstone Foundation.
SAE International is a global association of more than 138,000 engineers and related technical experts in the aerospace, automotive and commercial-vehicle industries. SAE International's core competencies are life-long learning and voluntary consensus standards development. SAE International's charitable arm is the SAE Foundation, which supports many programs, including A World In Motion® and the Collegiate Design Series™.