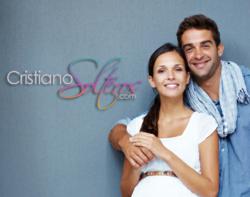 65% of men between the ages of 35 and 55 have found long-term relationships online
Torrance, Caliornia (PRWEB) February 22, 2013
On the heels of recent reports remarking about the struggles of online dating websites winning over international audiences, CristianoSolteros.com, a popular Latin dating site, is reporting an extensive increase in memberships, thanks in part to a Valentine's Day promotion that offered 50% off paid subscriptions.
"The deal we offered certainly did not hurt," says Maggie Danhieux, a spokesperson for the Latin dating service. "But in light of commentary about the trials online dating sites are facing internationally, we are certainly proud that our site has resonated with people."
Which begs the question, how is CristianoSolteros.com able to grow when so many of its competitors are not making quite the impact? "Of course dating is viewed through various lenses from culture to culture," says Danhieux, "The success or failure of these sites, however, is mostly dependent on how they adapt to the values, customs and idiosyncrasies of these cultures. At CristianoSolteros.com, we have worked valiantly to serve a demographic that we openly focus on and champion – the Latin dating community who highly value faith. They know we support them."
Common in the reports, as well as other articles regarding online dating, are the misapprehensions many feel regarding using the Web as a tool for discovering love. Referencing what she believes to be the most common misconception about online dating in general, that the success of finding a mate is low. "According to certain figures, 65% of men between the ages of 35 and 55 have found long-term relationships online," says Danhieux, who continued, "With regard to our site, the consistent growth of the Latin population means there is an ever increasing Latin dating community, so there is obviously a reasonable percentage that uses the Internet to their advantage in finding a partner."
Online dating success is also the cause of what the Latin dating site's advocate refers to as a dated fallacy, which is that people are embarrassed by explaining that they met someone on the Internet. "The negative stigma that may have once existed regarding Internet dating is quickly going the way of the dinosaur," says Danhieux. "Most clients we hear from who have been successful in finding a partner are simply so overjoyed that they can't wait to tell others about us."
If success is one side of the coin, the other side is inevitably failure, which brings to mind the common idea that online dating is simply where those with questionable ethics use will be dishonest in order to get dates. Danhieux admits that this can happen, and one should always be on guard for such tricksters, but she is quick to stress that CristianoSolteros.com is a Latin dating site that emphasizes the faith of its users and they're adherence to moral principles. "On a lighter note," says Danhieux, "If you do find yourself in that situation, the other person might feel rather silly when call them on their dishonesty."
Since the Latin dating site is structured in a manner that keeps a large percentage of the population away, Danhieux confirms CristianoSolteros.com's success lies in the simplicity of its service. "Everything from the website's design and interface to the focus of our service, Latin dating for people of faith, is consistent to giving clients what they are looking for. Obviously, our users are looking for something specific, so our aim is to provide that and only that."
About CristianoSolteros.com
Part of a leading Christian dating network established in 1997, CristianoSolteros.com is unique in its approach: all of its members are committed to seeking out long-term, faithful relationships. Unlike most dating sites, dating services within the network do not allow casual dating. The sites of this Latin dating community have gained great popularity and are frequented by Christians from all over the world. An approved member of the BBB online Reliability Program, Christian Singles Commitments Corp is committed to providing safe and secure online dating.