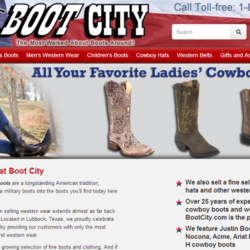 Mobile shopping makes are products available to a larger audience, we are excited about the new website.
Lubbock, TX (PRWEB) February 20, 2013
The Lubbock-based e-commerce website BootCity.com has just launched its renovated website featuring the most up-to-date technology in online interactivity. Designed by the Frisco web design company, SEOTA, the website features responsive design, a quality that allows websites to automatically adjust to any sized display. This allows Boot City to offer users the most advanced web browsing experience currently available.
As mobile devices create an increasingly segmented customer base, companies have had to adapt to the quickly changing business landscape with how they choose to provide their services online. Since the resolutions on these newer devices are much different than those of personal computers, developers need to find a way to allow websites to display properly on mobile devices. "Adaptive" website technology was created to enable websites to be viewed on these smaller screens; however, this technology only enabled sites to display properly on an established set of screen dimensions.
The responsive design used by BootCity.com eliminates the need for a predetermined set of screen sizes, and, instead, adjusts automatically to any screen that it interacts with. Responsive design continuously detects the dimensions of the screen that it is interacting with and rearranges a site's content accordingly. The new responsive technology is allowing business like Boot City to provide its customers with an intuitive and pleasant website experience.
"We're getting a better response from the customers," remarked a Boot City representative. "They're saying that the site is much more user-friendly. It's easier for them to find the products and have a quick checkout." Many e-commerce sites receive complaints that their websites are difficult to navigate or that it's difficult to locate the site's checkout page. Since responsive design eliminates the need for scrolling by collapsing all of the page's most important information, Boot City customers will find all of the site's most relevant content neatly organized on their mobile devices.
From a web development standpoint, responsive design allows the team at SEOTA to engineer a cleaner and more concise code for the website. Not only does this make the development process more organized, it allows the website to be more easily located by search engines like Google or Bing. This process of making websites more attractive to search engines, called Search Engine Optimization (SEO), can give a website priority positioning in search results. With a higher position in search results, a website will experience more traffic from interested users.
Offering the most trusted names in quality boots, Boot City understands the American tradition of boots and western-style clothing. With over 25 years of experience selling western wear from its headquarters in Lubbock, Texas, the retailer aims to extend its rich southern heritage to cowboys and cowgirls all over the country.
Boot City carries and sells all major boot brands including the most popular brands Arait Boots, Justin Boots and Corral Boots.
To learn more about Boot City, visit http://www.BootCity.com or call Patrick O'Neill at 877-365-1736 x101.
###