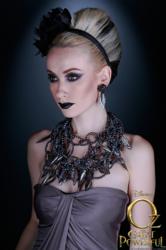 "I designed the 'Oz the Great and Powerful' jewelry collection as wearable art." -- Designer Joe Vilaiwan
Los Angeles, Calif. (PRWEB) February 19, 2013
Inspired by the vivid imagery in the upcoming major motion picture, Disney's "Oz The Great and Powerful," Los Angeles fine jewelry designer Joe Vilaiwan has created a show-stopping, numbered and limited-edition couture necklaces, cuffs and earrings befitting the story's larger-than-life characters.
Directed by Sam Raimi, the highly anticipated movie hits U.S. theaters March 8 and stars James Franco, Mila Kunis, Rachel Weisz, Michelle Williams and Zach Braff. It features three very stylish witches, Theodora, Evanora and Glinda, the good witch.
Creating what will be highly collectible "Oz The Great and Powerful" jewelry, Vilaiwan imagined the magical women wearing the spectacular, bib- and collar-style necklaces, each meticulously handcrafted with the finest precious and semi-precious stones and custom-made crystals. Up to 600 individually knotted strands combine into the statement necklaces. A single necklace can require 50 hours of expert construction.
A rising star among private collectors and connoisseurs, Vilaiwan is known for his dramatically sculptural couture pieces, painstakingly woven, knitted or wired into fluid, glittering adornments. His distinctive artworks capture the look of "Oz The Great and Powerful" in six stunning jewelry suites, including a vivid Emerald City inspired necklace that cascades into an elegant starburst and a perfectly bewitching "bad witch" collar of black freshwater pearl loops and mother-of-pearl leaves. Several pieces from the "Oz The Great and Powerful" fine jewelry collection are part of a numbered collector's series.
"In keeping with my signature style, I designed the 'Oz The Great and Powerful' jewelry collection as wearable art. I think of them as sculptures that sparkle from every angle, but move very sensually with the body," said Vilaiwan from his Los Angeles Vilaiwan Fine Jewelry studio. "My clients are my celebrities, and I like making them look and feel like one."
A collaboration with Disney Consumer Products, the "Oz The Great and Powerful" fine jewelry collection by Vilaiwan will be available at the following retailers: Gallery of Wearable Art, New York; Peipers + Kojen, New York; Palm Springs Art Museum; the FIDM Museum Shop, Los Angeles; Mariel Boutique, Denver; Franklin Barry Gallery, Indianapolis; Oui Boutique, San Juan, Puerto Rico; and Chicago's Chiaroart.com and other fine boutiques. The earrings retail for $150 to $450; the necklaces for $250 to $3,200. For more information, to find a store near you, or to see other pieces in the Vilaiwan Fine Jewelry Collection, visit http://www.vilaiwan.com.
For more information, contact info@vilaiwan.com