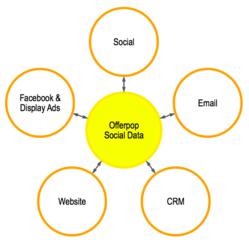 Our platform simply and smartly makes sense of all that social data, finally giving brands the ability to use social data to drive conversions across key marketing channels.

-Wendell Lansford, co-founder and CEO of Offerpop
(PRWEB) February 19, 2013
New York, NY, February 19, 2012 – Offerpop, the easiest to use social marketing platform, released two key social data features today. Now brands can run engaging campaigns, categorize and measure the success of their social content, and automatically collect rich data on individual fans. More than 25 big name brands have already seen an 84% lift in fans who actively interact with Timeline content.
Offerpop added two sought-after social data features to its suite of campaign apps for Facebook and Twitter. The first-of-its-kind Categories feature allows marketers to create custom keyword categories for content shared on their Timeline, then track fan engagement level for each segment. Armed with this intelligence, marketers can discover trending topics and optimize content across all channels.
Additionally, Offerpop's new Fan Database automatically creates detailed social profiles for anyone who interacts with a brand's Timeline, and captures high-value data like email addresses and opt-ins from fans who participate in Offerpop-based campaigns.
"More than 1.4 billion consumers now spend 22% of their online time on social networks, but understanding what content inspires action or which fans are the most engaged has largely been guesswork," said Wendell Lansford, co-founder and CEO of Offerpop. "Our platform simply and smartly makes sense of all that social data, finally giving brands the ability to use social data to drive conversions across key marketing channels."
Major brands are already reaping the benefits of Offerpop's intuitive platform. Using social data features, Viacom's Logo TV uncovered trending topics among their fan base and developed a new content strategy around their findings. The results were immediate – Logo TV experienced a 195% increase in fan loyalty.
"Right away, we started making valuable discoveries about what our fans find interesting," said Shawn Hollenbach, Digital Marketing Manager at Logo. "We were able to use these insights to inform our promotional strategy and drive value beyond social marketing."
Online deals site Gilt City is using Fan Database to easily discover actionable insights that improve targeting across other key marketing channels.
"We're getting a fuller picture of who our fans and followers really are," said Mae Karwowski, Social Media Manager for Gilt City. "Now we know which products and topics are driving engagement among different demographics, and we're using that data to run highly targeted social advertising. It's really demonstrating the impact social data can have on our other digital marketing efforts."
To get a free trial of Categories and Fan Database, and immediately access the past 30 days of your social data, create an account at Offerpop.com. No credit card required.
About Offerpop
Offerpop is a super easy-to-use social marketing platform for Facebook and Twitter. Marketers across the globe use Offerpop to build active fan bases, optimize their social content, and unlock rich, actionable data that converts fans into customers. From small businesses to top brands like Amazon, Pepsi, and MTV, companies use Offerpop to drive success across their key marketing channels – engaging and converting fans like never before. Offerpop is a Facebook® Preferred Marketing Developer, qualified by the PMD program in Apps.
Contact
For more information, please contact Mairead Ridge, at Mairead(at)Offerpop(dot)com or Michael Cecil, at Michael(at)Thunder11(dot)com.