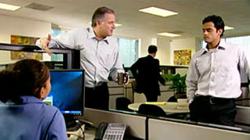 A well-trained staff yields greater productivity and creativity.
Novi, MI (PRWEB) February 19, 2013
In today's economy most organizations are seeking where they can reduce costs. Unfortunately many of these cost-cutting mechanisms chop the budgets for employee training and development. Kirk Berry, vice president of sales at Mastery Technologies, offers a 45 minute webinar at no cost, on March 7, 2013, covering the importance and ease of using online training. This webinar reiterates the importance of proper training in order to maintain successful, enthusiastic and dedicated employees.
BusinessTrainingPower.com has hundreds of topics, ranging from, leadership, customer service, supervisor, human resources, and all the way to industrial workplace and procedures following OSHA regulations. These courses feature broadcast-quality video demonstrations supplemented with real-life scenarios pertaining to a variety of workplace settings.
As Berry states, "trained workers are happier workers." Employers who are apprehensive about implementing online training must realize online training programs, such as those offered on BusinessTrainingPower.com, are not only effective but also cost substantially less than sending employees to instructor-led seminars.
Through the webinar Berry also gives insight as to how online training can:

Reduce expenses
Improve effectiveness
Improve reporting
Improve productivity
Develop supervisors into managers
There are common questions employers toggle between when considering how to best implement training to their employees; "what if I invest a lot of money training workers and they leave?" or "what if I don't train my workers and they stay?" Berry squashes these questions by affirming it is more cost-effective to have well-trained employees rather than not, as a well-trained staff yields greater productivity and creativity.
About BusinessTrainingPower.com and Mastery Technologies Inc.
BusinessTrainingPower.com provides career development resources for individuals to build upon and learn new skills, helping people earn recognition by creating impact within their organizations. TrainingPower® is a brand of niche web sites operated by Mastery Technologies Inc., a leading publisher of online video training programs. TrainingPower® sites are designed to provide tightly-focused training solutions based on an industry, topic or concept. The TrainingPower® brand is built on a commitment to pro-actively assist customers to ensure training occurs, supporting their organization's success.