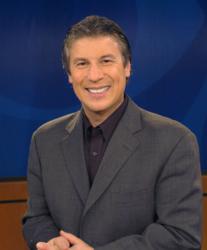 Roslyn, NY (PRWEB) February 20, 2013
Sid Jacobson JCC is proud to announce that Tony Tantillo, CBS 2's food expert, will be the Celebrity Auctioneer at the 18th Annual Auction for Excellence, An Epicurean Event on Thursday, March 7 at Glen Oaks Club (175 Post Road, Old Westbury, New York 11568). He will join Vanessa Thanos, That Auction Girl, in raising money for the JCC's social service programs. This highly anticipated evening brings together flavors of the area's best gourmet restaurants and the excitement of Live and Silent Auctions. The event benefits essential programs for those going through life crises, including cancer, loss of a job and caring for those with autism or Alzheimer's or related dementias.
Tony Tantillo is an advocate for eating well and understanding what goes into your body from purchase to preparation. He joined CBS 2 in 2000 as a food expert and regularly contributes to CBS 2′s News at Noon, CBS 2′s News at 5PM and CBS 2 News Sunday. His "Fresh Grocer" segments have been featured on news broadcasts in major metro markets since 1993.
The 18th Annual Auction for Excellence, An Epicurean Event will feature food from some of Long Island's best eateries, including 388 New American Cuisine, Bagel Boss, Ben's Kosher Deli, Cakes with Character, Centro Cucina, Coffee Distributing Corp., Elegant Affairs, Glen Cove Mansion, H on the Harbor, Heavenly Tea Leaves, Heirloom Tavern, Joseph Craig Caterers, Lawrence Scott Events, Lula Trattoria, The Meat House, Mitch & Toni's, MP Taverna, Nisen, Pearl East, Phillip Stone at the Lake Success Club, Prime Time Butcher, Seasons 52, Stresa, Taiko Japanese Restaurant and Vintage Restaurant.
Sponsors Adams & Co. Real Estate, LLC, Biaggi, Sandler Capital Management and Fast Forward, LLC have lent their support to this fabulous event.
For more information on the 18th Annual Auction for Excellence, An Epicurean Event or to purchase tickets, contact Bridgette Adair, Development Coordinator, at 516-484-1545, ext 141, badair(at)sjjcc(dot)org or visit http://www.sjjcc.org/auction.