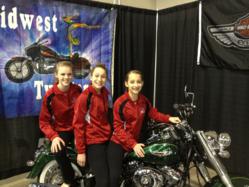 I want to build their confidence more on beam going into state and clean up some execution but overall the meet was a success
(PRWEB) February 19, 2013
Gymfinity's Xcel team came to Milwaukee this weekend to play. Riding high after several successful meets this season the girl's gymnastics team was ready to again face the competition from Wisconsin, Illinois, Iowa, Minnesota and beyond.
The Xcel gymnastics program is divided into various levels starting with Bronze, then Silver, Gold, Platinum and topping off with the Diamond level. Gymfinity, located in Fitchburg, presented a team of Silver and up gymnasts into the meet of over 1200 competitors.
The competition was tight but Gymfinity had a good showing. Coach Kaitlin Liebhold commented on the team's performance "I want to build their confidence more on beam going into state and clean up some execution but overall the meet was a success."
Gymfinity gymnast Jeneva Ford placed on top in the Vault and fared well in the Silver All Around as well. At the Gold level, Oregon's Lexi Karls made a pretty good sweep of the events winning first place on Vault, Uneven Bars, Floor Exercise and All Around,
and challenging the top spot for Balance Beam. In the Platinum level Gymfinity's McKenzie Jolicoeur won Vault and took second on Floor and All Around, with teammate Elizabeth Tisch taking third on the bars.
The highlight of the meet was at the Diamond level when Gymfinity's Hannah Posick wowed the audience and had everyone enthralled during her Floor routine which eventually earned her a 2nd place and secured her the 2nd spot in the Diamond All Around competition.
This team has competed recently in The Wisconsin Dells, Kenosha, and Milwaukee with the season still holding more meets in Oshkosh, Waukesha and a home meet in Fitchburg before the State competition in Franklin.
With the addition of the Diamond and Platinum levels in Wisconsin just this year Coach Rachael Hauser says "I'm so proud to have a high level gymnast on our team in Hannah (Posick) at Diamond, but even more is that this year we have a full team of Gold gymnasts and we are making a challenge to the team title right out of the gate."
Gymfinity Children's Activity Center has competition in Women's gymnastics in Xcel format and in the Junior Olympic circuit as well as having a team for Trampoline and tumbling. Gymfinity will host it's home Xcel meet on April 7th and host the Trampoline and Tumbling State meet on May 5th. Opening in 1999 Gymfinity has offered children's sports and fitness programs to children 15 months through 18 years old.
###